By Vicky Smith
Last week I wrote about the upcoming Saturday rally at the Huskisson Holy Trinity site: Dead and buried. In that article I stated: we are not planning to go away and we certainly reinforced that message on Saturday 12th November. More than 100 attended our rally at the corner of Hawke and Bowen Streets, Huskisson.
Members of the Jerrinja Local Aboriginal Land Council, local Indigenous Elders (including from Wreck Bay), Shoalhaven City Councillors and candidates for the upcoming NSW state election spoke. They shared their feelings about the planned development, the removal of trees, the deterioration of the church building and the desecration of graves on this sacred land, highlighting the lack of knowledge and understanding of Indigenous culture and Heritage.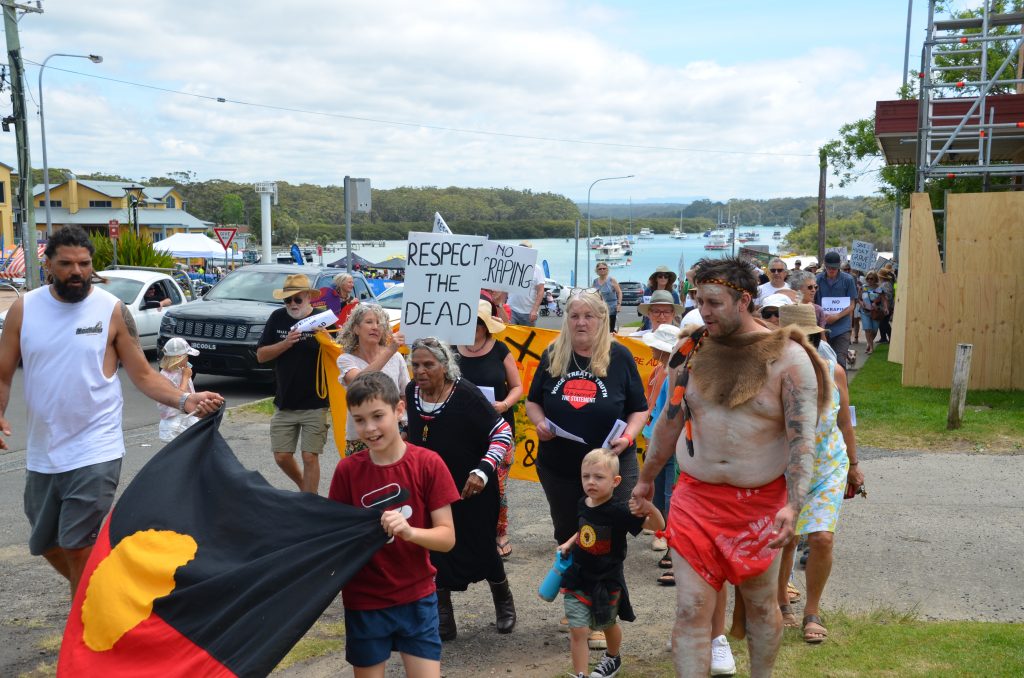 Aunty Delia Lowe spoke passionately about her connection to this sacred site in her Welcome to Country. She spoke of her connection to Rebecca Golding who is buried on this site.
Elders, Aunty Jean Carter, George Walker and Noel Wellington spoke emotionally of their connections to this land.
Storyteller, Michael Robertson shared a traditional and thought-provoking story. Alfred Wellington, CEO of the Jerrinja Local Aboriginal Land Council, said that traditional voices are being ignored by those who are ignorant, scared and above all profit driven.
A minute's silence was observed paying respect to Ancestors.
Ini and Deb's band, Lotus Harmonies, inspired us with their version of Joni Mitchell's song, Big Yellow Taxi (with lyrics appropriate to the cause) and a beautifully apt song written for the occasion, Sacred Land Always was Always will be.
The crowd was in high spirits and ready to march the streets of Huskisson. With banners, placards and signs held high they set off. They walked in a peaceful, courteous and considered way.
At the south west corner of the block (Bowen and Currambene streets) they stopped in silence to acknowledge the markers that have been placed across the land to indicate possible grave sites identified by a recent scientific survey. Two large banners hanging in the trees announce that this is Sacred land.
One of the aims of the rally was to 'raise awareness' within the Huskisson community and further afield. We DID that!
Jerrinja Local Aboriginal Land Council, Huskisson Heritage Association, Our Future Shoalhaven and other groups are working together, collaborating, organised and ready.
Mayor Amanda Findley and Councillors John Kotlash and Liza Butler spoke at the rally. The Council is currently working on getting the site heritage listed and at Monday evening's (14 November) Council meeting discussed ways of providing short term protection for the site while everyone continues working to resolve this issue.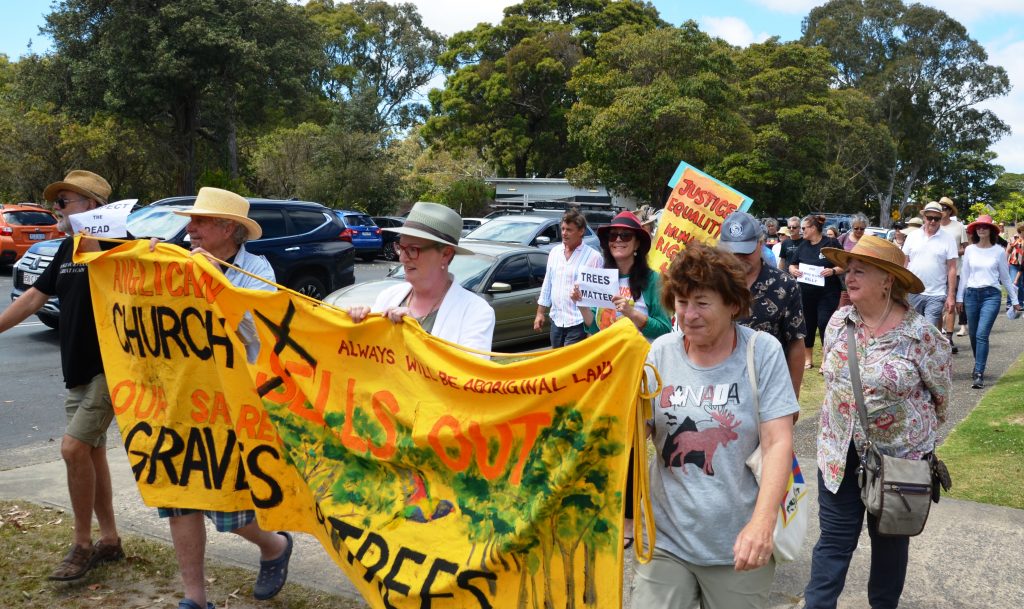 People are talking. People are supportive.
The community is listening. How can the owner not?
We have been speaking up for years, and our voices are growing stronger and louder!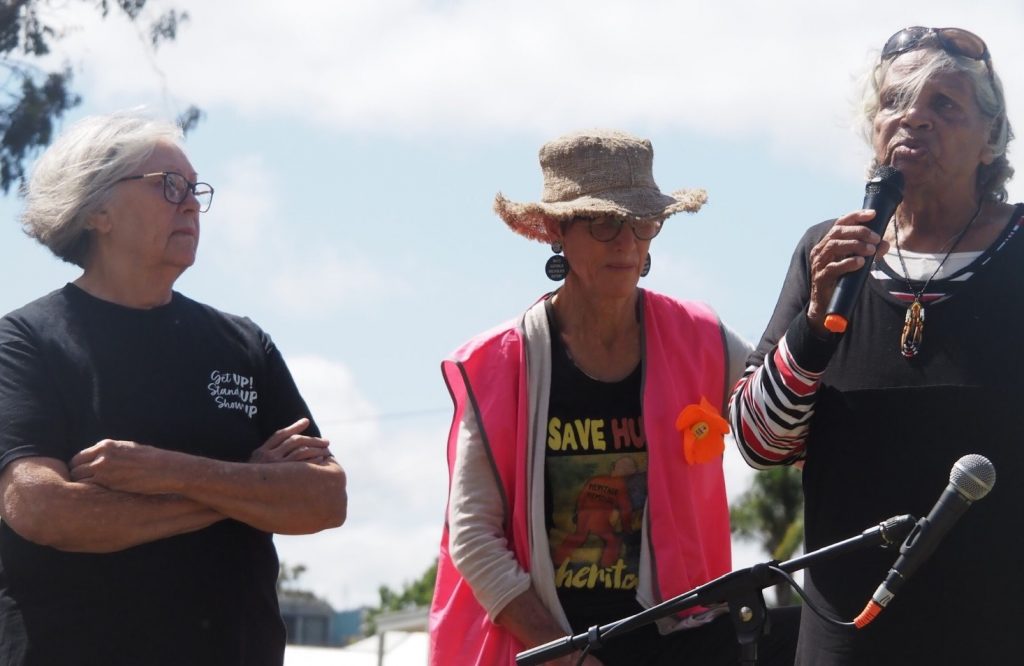 Vicky Smith is an executive member of the Huskisson Heritage Association
Feature image: Protesters marching towards Husky Pub, the pub is owned by developer Steve Bartlett. Photo supplied