By Bonnie Cassen
Bega experienced a taste of Extinction Rebellion as activists disrupted Liberal MP Andrew Constance's office in Bega. A pile of wood chips was dumped on the office doorstep, a brave grandfather glued himself to the door, two locked on to the roof awning and an angel stood singing sad truths of a world gone mad.
Police quickly blocked off the street declaring it a crime scene further interrupting traffic and business.
Like the protest the previous morning in Mogo Forest, the XR action was raising awareness of the atrocities taking place in our forests under the guise of the logging industry. People are kept ignorant of the extent that forestry is subsidised to desecrate forests already suffering on an increasingly warming planet. And for what? Woodchips.
Although some business owners found the whole thing frustrating and a few people thought it a bit extreme wondering if a simple protest or petition wouldn't be more polite and appropriate, most of those who were inconvenienced supported the action.
Over thirty years of 'nice' has got forest advocacy nowhere and direct actions where 'extreme' gets attention has proved the only way to make peaceful, non-violent change.
At Mogo on Monday a police superintendent knew the reason the protesters were there and the importance of the situation. He understood but of course had a job to do. Likewise a Bega police office in conversation with the XR police liaison said:
"I don't mind that you have your protests. I'm on your side with the environment. I think we're stinking the planet up. I'm not stupid. I've been around a lot longer than you and I can see what's happening."
But of course he still had a job to do.
One of the objections heralded towards these civil disobedience actions is the resources they waste – police, ambulance, courts. That frankly is the whole point of these direct actions, alongside awareness raising.
Police officers aren't the only enlightened individuals when it comes to acknowledging climate science. Judges, doctors, nurses and paramedics are amongst the most educated on the hard-to-hear facts of our dire situation; teachers too and, increasingly, business owners. Putting strain on these systems forces messages upwards that the system can't cope and why. Eventually governments are forced to act as required.
The people of the South Coast lived through the Black Summer fires and every day the burnt forest sits as a reminder. The climate change-fueled force that terrorised the residents and holiday makers still fresh in locals' minds.
At first Constance seemed to have turned, become an ally. A Malua Bay resident, the Bega MP lived through the same experience as everyone else. Although his home was saved, emotional, teary eyed, face still smudged with ash, he pledged support and demanded answers of the government.
Since then Constance has been largely a disappointment. Earlier this year he directed the clearing of millions of trees along every highway to create a 40-metre clearance zone. Luckily for the trees, Rodd Staples, then secretary of Transport for NSW (TfNSW) refused, justifying that TfNSW didn't have that sort of power. Later Staples was sacked.
The XR disruption called attention to Andrew Constance's land clearing mentality as well as native forest logging, the Eden chip mill and the region's extensive list of endangered species.
Andrew, the grandfather glued to the front door, said he was doing this for his grandkids, and that doing nothing was no longer an option for him, his silence making him complicit in the wrong doings. Others willing to get arrested made similar justifications, many also grandparents, parents to young children or young themselves and wanting a liveable future.
The angel singing mournful XR songs, Sue, was arrested during the action and was taken to the Bega police station where she accepted her bail conditions and was released a short while afterwards. She will be in court on Tuesday 29th June facing five charges, amongst them a charge stated as "use intimidation/violence to unlawfully influence person", a charge that the other three individuals who were arrested will also face.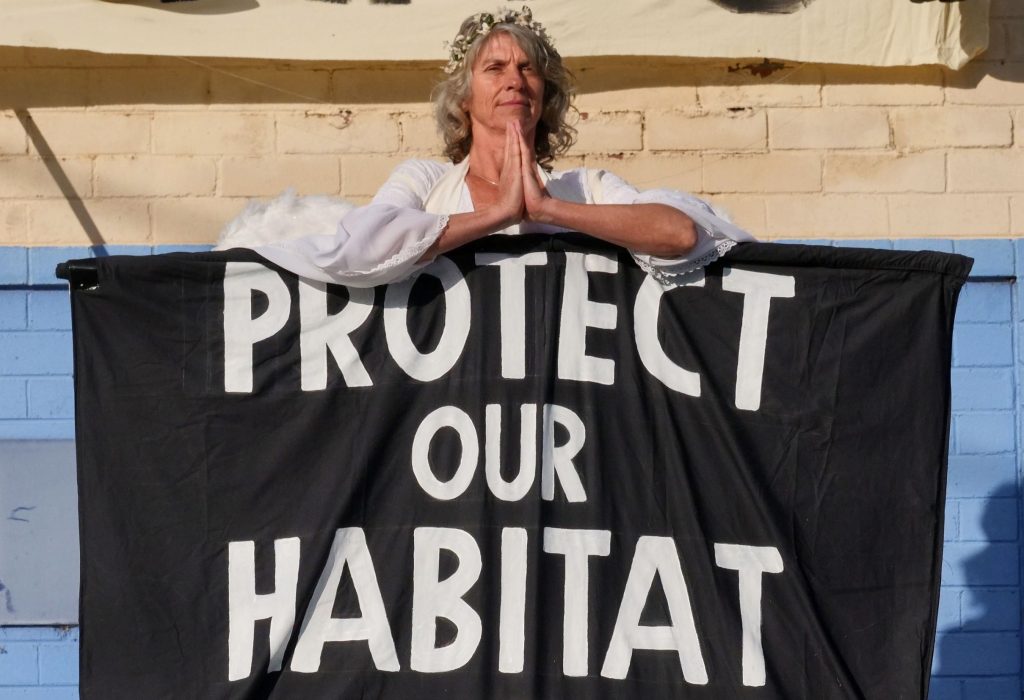 Sue wrote in a testimony explaining her actions: "I was arrested yesterday for disrupting business as usual to raise the alarm on the climate and ecological emergency and the criminality of the government in failing to act to protect us."
Our current systems fail to address the climate and ecological emergency and the continued commitment to fossil fuels, forestry and development are hurtling the world ever quicker towards 3° warming which we know is beyond the tipping points.
"Science is telling us to act and change but we keep going about our business as usual," Sue said. "We need the government to tell the truth, to act now and develop a citizens assembly to work alongside the government to bring about climate stability."
Jarrad, one of the two rebels on the upper roof top, said in a statement, "It is my indisputable duty to stand up and fight against the rampant and reckless destruction of the natural world. We are accelerating towards total climate breakdown which will inevitably translate to mass suffering and starvation".
It is not easy studying climate science and knowing the truth about the threats we face and the corruption-fuelled inaction of governments at all levels in this country as well as globally. Not easy, but the truth is vital knowledge in moving forward and forcing a snowball of momentum towards change.
Sergeio was the last to be cut free of the device that locked him and his provocative message front and centre. While the other three have been released on bail Sergeio declined to sign the conditions, expressing that he is unwilling to compromise his ability to protest against the treasonous government's sentencing of future generations to insurmountable suffering.
At this stage Sergeio remains in remand until his court appearance towards the end of the month and is currently on hunger strike. He will be requesting that his charges be dropped and stands by his convictions.
Extinction Rebellion is clear in its message - if we can make drastic changes because of Covid-19 so are we able to make drastic changes for the climate emergency. We owe it to our children and the generations that will follow. We are in a climate and ecological crisis and history tells us the only way to enforce change is to rebel.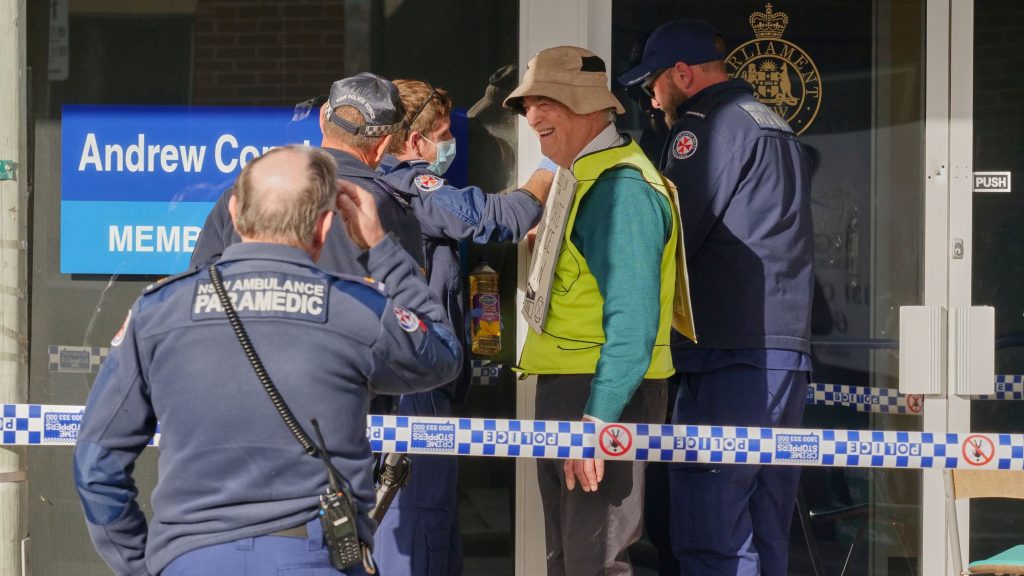 The maths for civil change is not difficult; estimates have it as three per cent of the population taking direct action day after day. Small actions are already happening now, all over the country, on every issue from forestry to coal mining to social justice to disrupting the arms expo in Brisbane, this weeks national fuel blockade, and shutting down an oil depot in the UK ahead of the G7 summit.
With the young, old and everyone in between willing to stand, sit, lock on, face arrest and take a stance, the future is looking brighter than ever before. XR began in the UK and England was finally forced to declare a climate emergency. Australia can do that too and then as a reformed coal-addicted nation we can take that inspiration to other nations. It's time to rebel!
Further information about Extinction Rebellion is on the Australian website and keep up to date with the Bega Valley group on their Facebook page.