By Stuart Rees
To deter asylum seekers from crossing the English Channel to seek refuge in Britain, the Boris Johnson government has decided to fly potentially hundreds of people 4,500 miles to detention in Rwanda. Advice on this policy came from Australian ministers boasting about their Australian solution, the out of sight, out of mind benefits of offshore processing.
At estimated financial costs of half a million pounds, the Johnson government hired an aircraft to fly the first asylum seekers to Rwanda. On the basis that asylum seekers must not be treated like criminals, the European Court of Human Rights imposed an injunction on the UK policy. For the time being, the aircraft sits empty on the Heathrow tarmac.
Deceit facilitates the cruelty. In a search for sufficient numbers of adults to fill that plane, the anti-trafficking charity Love146UK, says that asylum seeker children as young as 14 are being assessed as 23 and 'sexual maturity' tests are conducted to determine children's age. In response, the Chief Executive of the UK Refugee Council condemns the government for a "total disregard for the welfare and well-being of very vulnerable people."
Not deterred by the rules of humanitarian law, Prime Minister Johnson declares his policy lawful, says he's proud to show how strong he is towards asylum seekers and people smugglers; therefore he will implement his far away Rwanda/Australian solution.
To compound that cruelty, the Johnson Patel government treats asylum seekers as criminals: people who have survived torture and other human rights abuses will be tracked via electronic tags. Despite a UK government survey concluding that only 1 per cent of people released on bail ever abscond. Such is the cruelty at the hub of this Australia influenced policy, that Johnson boasts the electronic tagging will go ahead along with deportation to Rwanda.
The 2022 Human Rights Report identifies Rwanda as a country with scant regard for human rights, where there's no space for political opposition or critical media, where arbitrary detention, ill treatment and torture are rife. The same report identifies the existence of 'safe houses' where detainees are held illegally and tortured.
Despite that information, but in imitation of Australian governments' years of spending a fortune on offshore processing, the UK government is immediately paying Rwanda $155 million plus operational costs to detain asylum seekers.
Even if asylum seekers may be judged refugees, supposedly protected by the terms of the 1951 Convention on the Status of Refugees, the use of Temporary Protection Visas (TPVs) shows the prevalence of Australian governments' taste for cruelty and illegality. That TPV policy will also impress Johnson and Patel.
In Australia at least 30,000 people exist under temporary protection visas. If cruelty is policy, who cares? Facing uncertainty and insecurity plus indefinite separation from their families, studies in the Medical Journal of Australia (2006) and in Social Science and Medicine (2011) show refugees on TPVs suffer anxiety, depression and post traumatic stress disorder.
Although Australia and the UK have international law obligations prohibiting them from penalising asylum seekers, such is the influence of values to encourage cruelty as policy, that standards reflecting a common humanity can be cast aside.
UK desire to imitate Australian policies towards asylum seekers requires diagnosis of the motives of powerful people who would be cruel.
Stigmatisation of the other as unworthy, even as less than human gives the first clue. Although seldom acknowledged, racist attitudes bolster those policies but are strenuously denied. False claims, even outright deceit nurtures cruelty.
Leaders promoting their brand of nationalism – Australia's impregnable borders, the UK's go it alone Brexit – like to swagger and present as strong, even towards weak and powerless people.
Instead of exporting cruelty as policy, a new Australian government could teach the UK Johnson administration about the ideals of a common humanity.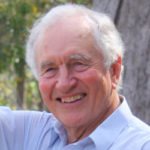 Stuart Rees OAM is Professor Emeritus, University of Sydney, recipient of the Jerusalem (Akl Quds) Peace Prize and author of the new book "Cruelty or Humanity". A human rights activist, poet, novelist, and Founder Director of the Sydney Peace Foundation.
Feature image: Dungeness, Kent, UK, May 6th 2022,. A migrant being questioned and searched by Border Force officials on the beach at Dungeness after migrants crossed the English channel to the UK. Photo credit: Sean Aiden Calderbank/Shutterstock.com