By Bonnie Cassen
The lull is over. The Manyana community's fight to save 20 hectares of unburnt forest, a sanctuary for wildlife, from being bulldozed for a housing development enters a critical round.
Developer Manyana Coast Pty Ltd (Ozy Homes) has now published additional documentation, as requested by the Federal Minister for the Environment Sussan Ley, for public comment. The submission of this documentation is the beginning of the process for Minister Ley to make a final decision about the future of the land.
Ley's department had previously requested additional information about the environmental impacts of the 182 Lot subdivision after declaring it a "controlled action" in August last year. As a 'controlled action', Ozy Homes' development awaits approval under the EPBC Act. During the assessment stage sufficient public comments were received to convince Minister Ley that significant environmental impacts are likely, thus the request for additional reports.
The Manyana Matters environmental group were highly critical of the environmental assessments originally listed with the application. The group has undertaken substantial on ground research and sought expert opinion from numerous ecologists as well as BirdLife Shoalhaven and recognised scientist and academic Professor David Lindenmayer.
Many of the reports in the Environmental Impact Statement (EIS) submitted by the developer were outdated and none considered the impacts of the catastrophic 2019/2020 bushfires that decimated the surrounding Conjola National Park; 95 per cent of which was fire affected. The newly uploaded documentation is a chance for both experts and the community to determine whether the proposed measures to mitigate, offset and minimise damage are adequate and whether the additional assessments are comprehensive enough.
Along with the additional environmental documents a socio-economic impact analysis has been added (Attachment P) as has a statement as to the 'environmental history of designated proponent (Attachment R). The socio-economic impact appears overly optimistic and fails to mention that these homes will never meet affordable housing guidelines. Manyana, like other nearby beachside towns are no longer affordable to locals and end up filled with holiday accommodation and weekenders which have proven to push prices in the area up.
Both the swift parrot and the flying fox were dismissed in this way. Exactly how an endangered species behaves when only a small fragment of the once abundant smorgasbord of choice remains is uncertain. We do know that habitat choices differ from year to year and that swift parrots have been seen in the area and hopefully will be seen again.
While we can't claim to know the innermost thoughts of a swift parrot, what we do know is that 180 of the tiny population left in existence were seen recently at Mogo less than 100 km south of Manyana. University research has confirmed swift parrot numbers at less than 300 overall making this habitat even more important to protect.
What we do know is that post bushfires, in a warming world, all forest is important. All food growing naturally, a source for wildlife. Supplementary food still necessary in many areas.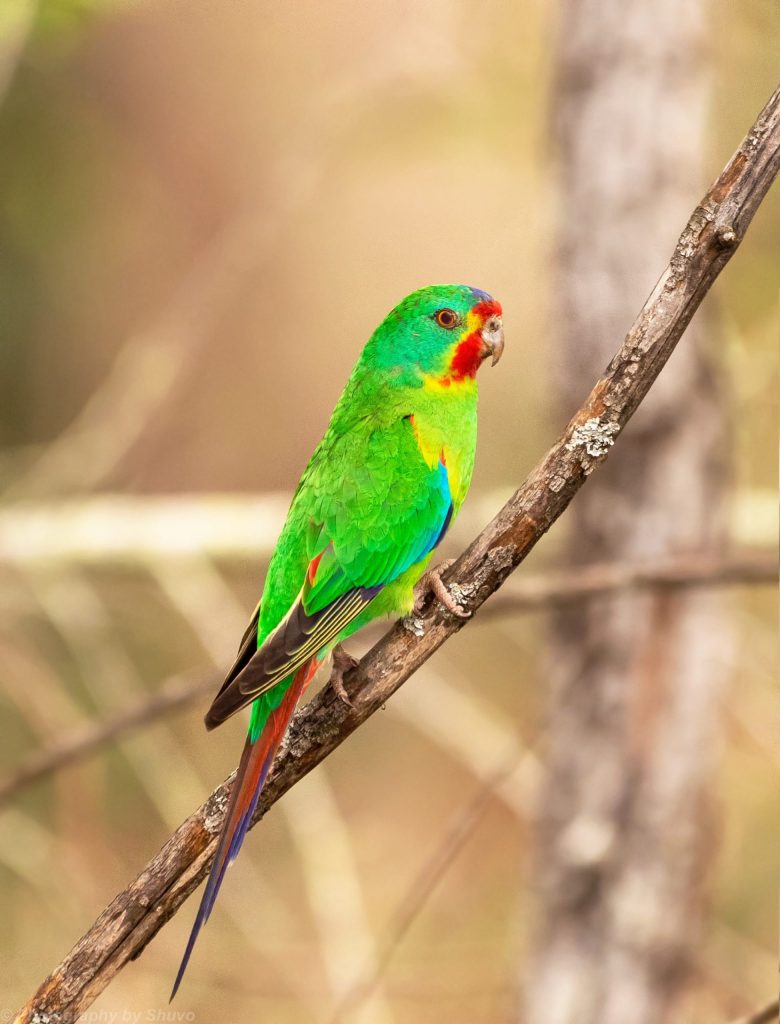 There are still things that the updated reports completely miss, such as the dusky antechinus, lyrebirds, and gang gang cockatoos, all of which have been recently seen in the sanctuary.
In the reports, Lot 823, where Ozy Homes estate would open onto Sunset strip, is described as 'cleared land' and has not been included as native vegetation removal in any of their impact assessments. They even have identified and mapped a hollow-bearing tree marked here. This is actually swamp sclerophyll forest, an endangered ecological community (EEC) and will be destroyed should the development be approved.
Scrub turpentine is also prevalent in this area and is so critically endangered there are currently preservation projects being undertaken across the state.
Birdlife Shoalhaven has been conducting surveys across the region as part of their Bushfire Research Project, establishing the long-term impact of fire for bird populations in the Shoalhaven LGA. They reported that, "eight of the 13 bird species identified as more vulnerable to extinction since the bushfires are found in Shoalhaven. This land is a refuge for hundreds of native species, including the critically endangered swift parrot."
"Wildlife corridors are vitally important for the survival of bird species. If this development goes ahead, the long-term consequences for wildlife in the area would be disastrous.⁠"
With the developer talking about starting to clear the forest in October - if they get the go-ahead from Minister Ley – and the Shoalhaven Council stalling discussions around a buy-back, the situation is becoming critical. Forestry, development, drought and bushfires have pushed wildlife to breaking point and strategically politics now needs to afford forests the ultimate protections that will see endangered species survive and thrive.
The Manyana Matters group upped the ante, taking out a full page advert in the Sydney Morning Herald on Tuesday 29 June 2021 with an Open Letter addressed to Ministers Ley, Stokes, Kean and Hancock as well as Shoalhaven City Councillors.
The Open Letter called on Federal, State and Local Government representatives to take urgent action to save precious unburnt habitat in Manyana.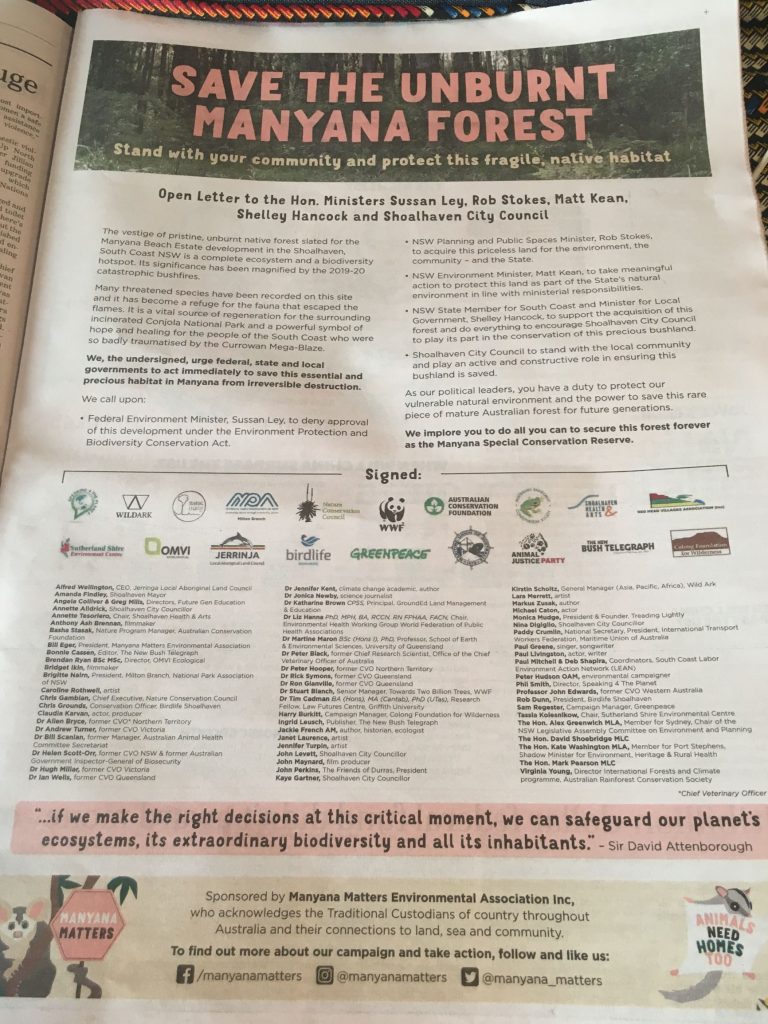 The letter was co-signed by a number of prominent environmental organisations including WWF-Australia, Greenpeace Australia, and the Australian Conservation Foundation, well-known Australians, including actor Claudia Karvan and author Markus Zusak, eminent scientists including Dr Helen Scott-Orr and Dr Peter Black, and concerned politicians including Shadow Environment Minister Kate Washington, Alex Greenwich, Justin Field and David Shoebridge.
More than 60 high profile environmental organisations, scientists, politicians and well-known Australians have thrown their support behind the group's campaign to see the forest preserved forever as the Manyana Special Conservation Reserve.
MMEA Founder Jorj Lowrey says the delivery of the Open Letter marks a critical point in the group's efforts to save the forest.
"It's time for our political representatives to step up and protect this land. We urge them to think about their legacy. The decisions they make now will have a huge bearing on whether there is anything left of native habitat and wildlife in our region for future generations to enjoy."
The New Bush Telegraph contacted both Minister Stokes and Kean's offices and both are supportive of Manyana's position and willing to enter into a buyback however the negotiations have stalled with Shoalhaven Council unwilling to contribute.
A spokesperson for the Department of Planning, Industry and Environment said, "the Department is continuing to progress options for acquiring the site, noting there remains a financial shortfall without Council's participation following its decision not to contribute, and its intention to seek compensation from the NSW Government if it acted to preserve the land."
"It is unclear why Council is taking this position and not supporting the overwhelming community sentiment on the issue, because it is vital all parties work together to achieve a long-term solution for the Manyana community."
However no reply was received from Minister Kean when asked if he would be following Manyana Matters request and making representations to Federal Minister Ley to not approve the development.
With a public consultation period ending on Friday (16 July 2021), Ms Lowrey is making an urgent plea to all those concerned about the environmental impacts of the development to write in.
"This forest is absolutely critical to the survival of native plant and animal species in our region," she said. "With so much habitat lost in the Black Summer bushfires, we simply have to save this forest to give nature a chance."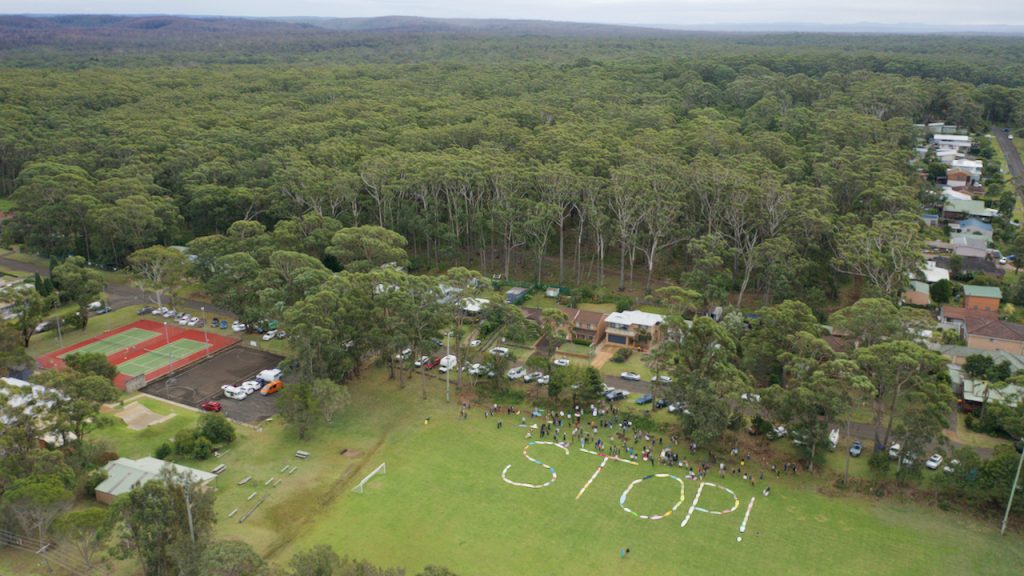 "We need as many people as possible to send that message. Even one paragraph will do the job."
All comments must be received in writing by COB Friday 16 July 2021 by emailing contact@manyanaestate.com and cc'ing nsw.enquiries@environment.gov.au with "Manyana Submission" in the subject line.
To view the developer's documents, go to https://tinyurl.com/OzyDocumentation.
More information about Manyana Matters can be found on Instagram and Facebook.
The New Bush Telegraph and MMEA acknowledges that the prospect of this land being cleared is having a profound impact on the mental health of people within the community and beyond. We encourage those experiencing distress to reach out to friends, family, or seek support from Beyond Blue on 1300 22 46 36 or LifeLine on 13 11 14.
Feature image: Millions of Hectares Burnt Let's Save This Bit. Banner from Manyana Matters