By Bonnie Cassen
The South Brooman community is disappointed after a majority of councillors voted to prevent debate, deferring a motion to discuss the impact that logging in fire-affected forests is having on the southern Shoalhaven community.
The motion, considered by the Development and Environment Committee at Shoalhaven City Council on Tuesday night, requested that council write to the local member Shelley Hancock MP and the NSW Environment Minister Matt Kean MP, to raise concerns about logging in fire-affected forests and the impact of Forestry Corporation's plans to close local roads to facilitate future logging in the South Brooman State Forest.
Greens councillor Kaye Gartner presented the motion after Brooman residents in her Ward 3 area brought their concerns to her. However, the majority block of councillors stopped debate, delaying the action indefinitely.
Takesa Frank, who drafted the motion and lives in the South Brooman region said the result was extremely disappointing. "I put forward this motion because the proposed new logging in South Brooman state forest will have a devastating impact on our forest which has already been badly affected by fire and it will hurt local businesses by restricting access. This is important to the local community and is clearly an issue the council should be engaging in and deserves discussion."
South Brooman forest, at the core of the bushfires
South Brooman is a community already shattered over the burnt-out environment surrounding them, a forest they call home and fought so hard to protect last summer from the raging Currowan fire that began its horror story not far from this very area.
Logged forests present an increased fire risk. Forestry operators only take the trunk of the tree, leaving the 'tops and tails' on the forest floor. Logging 'slash', as this 'waste' is referred to by the industry, is usually burnt by forestry workers before they move on to the next area. Climate change has ruled this practice out, with a window of opportunity to burn safely no longer available. Now the debris is left, stacked up to two metres high in some corridors, posing a significant risk as summer approaches.
Like many remote communities, Brooman residents found themselves without support last December when the fires broke. RFS crews raced from everywhere to fight the fire, but RFS trucks had to retreat early on, and locals knew it was up to them to protect their area.
Utes loaded with 5,000-litre tanks, pumps ready, families, young and old, fighting for the land. Local defenders, ute-brigades, mosquitoes – call them what you will - vital complementary services to our multi-layered arsenal against bushfire.
Completely within Shoalhaven Council's role
Independent NSW MLC and Milton resident Justin Field also expressed disappointment in the decision to block debate on the impact of the logging.
With the extent of damage to forests from last summer's fires now better known, widespread opinion exists that logging must cease in bushfire affected areas to allow recovery to take place. Preventing local extinctions is now a priority that will help bulletproof wider losses.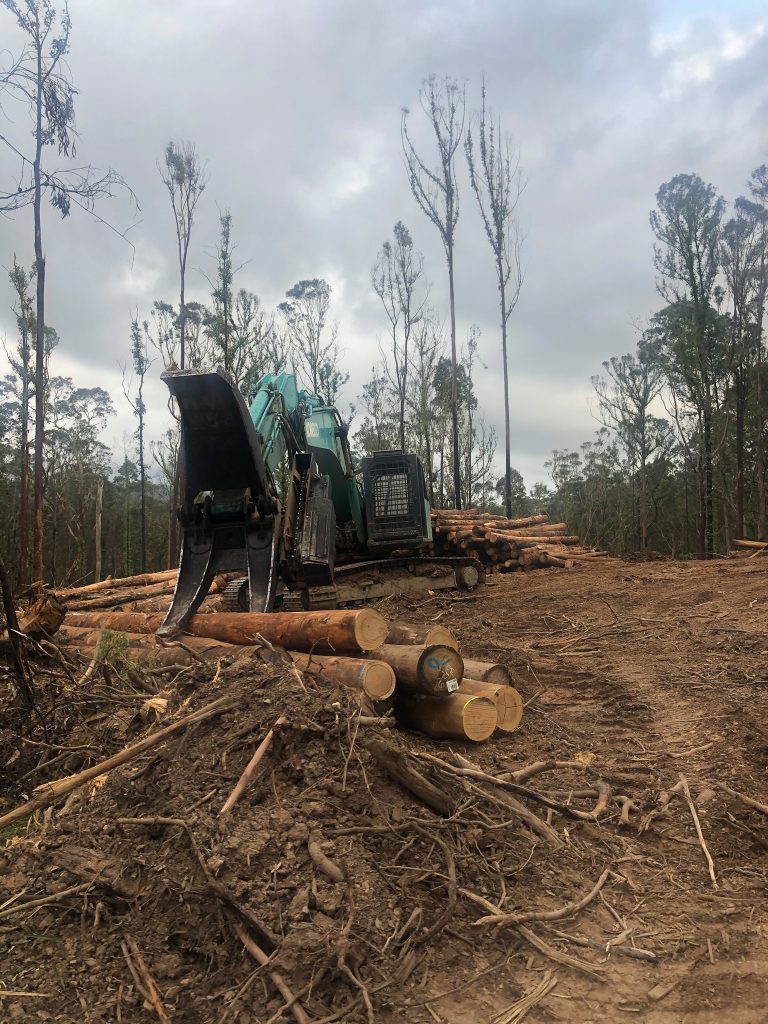 "Logging will only hinder the recovery of local forests after the fires and future forestry operations planned will disrupt local businesses who have been hit by the double whammy of the fires and then Covid-19." Field also said that engaging with state MPs and ministers to express the impact these activities are having on the local community is a core role for the council.
"Council should take a leadership role in building resilience in the community after the fires, including engaging in a public and political discussion about building a sustainable future for our forests."
Most important for the Shoalhaven is that there are residents, ratepayers and local businesses that will be impacted. These residents have asked the council to represent them and to call for support from the local member and the environment minister, and to insist that Forestry obey the post bushfire rules.
Andrew Guile took to social media, sniping "Quit wasting our time on issues over which we have no control. We have business to attend to."
Shannon Hush who lives in the South Brooman State Forest felt let down and angry by Councillor Guile's response. Hush says that a quick online search brought up dozens of similar notices of motion for state aligned issues, all initiated by those who thwarted any consideration of this one. Most read almost identically to the one Gartner raised on the Brooman community's behalf.
"This isn't how it should be," Shannon Hush said when I spoke to him today. "We know Guile's an outright bully, but as an elected representative, he shouldn't be acting and talking rudely to the community like this, saying "stop wasting our time".
Councillor Gartner, after four years on Shoalhaven City Council is no longer surprised by Guile's antics. "Clearly, the concerns of the residents of Brooman and the other small communities out there are not important enough to take the time of some of our Councillors." She said.
Logging in bushfire affected forests
It is estimated that three billion animals died across Australia in last summer's fires; with many species newly entering the threatened and endangered categories. Five thousand koalas perished, unknown numbers of greater gliders were lost and many other species face local extinctions.
The forests are already stressed from four years of drought and wildfires, then experienced three major flood events over the past eight months. As the rain broke, water gushed through, soil and runoff making its way into nearby creeks and rivers. Lose ground cover and dirt, disturbed during the logging process, now polluting water habitats and ecosystems.
Resident Brian Bennett said he had never seen the forest look as bad as it did after the fires. The landscape looked dead, tree after tree blackened, the ground a mass of black powder. The lack of wildlife and birds, he said, was heartbreaking. Just recently, he saw a pair of endangered glossy-black cockatoos for the first time since the fires.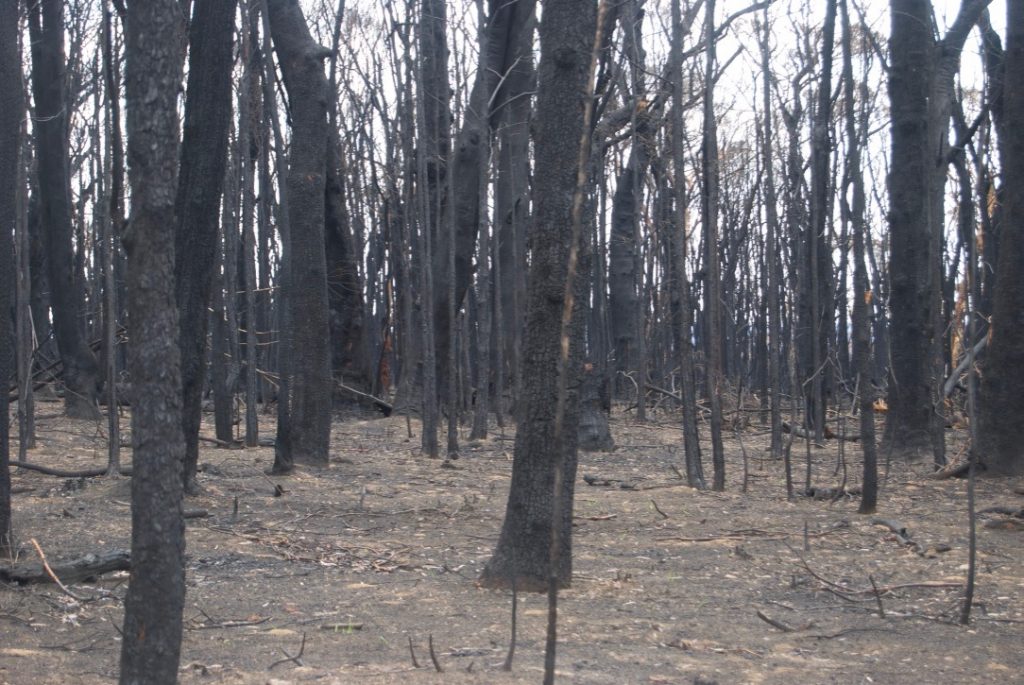 Environment Protection Authority (EPA) acted by placing site-specific conditions on all post-fire logging operations prohibiting the felling of any tree with a hollow in it.
Ancient trees with hollows act like hotels for wildlife and are valuable real estate in native forests. In areas such as Brooman and Mogo state forests, these hotels provide accommodation to over 70 different species, most of which were severely impacted by the fires. Any remaining tree hollows are crucial for the recovery of bird, mammal and reptile populations, yet there is evidence of felled trees with hollows everywhere.
Following the Black Summer fires, the EPA initially granted permission to NSW Forestry Corporation to 'harvest' in three state forests: South Brooman in Shoalhaven, Mogo in Eurobodalla, and Yambulla near the Victorian border.
"People don't realise that logging started again in our burnt forests, just weeks after the fire went through. It's had a profound impact on the community having to see every day the devastation of the fires and now the impact of logging on the forests," Takesa Frank said.
Conservation action
With no plan and checks visibly in place by Forestry to identify and protect hollowed trees, local conservationists got to work observing and collecting evidence of compliance and breaches. They found 97 instances of hollows laying among debris on the forest floor in one area alone. Logging activity in already compromised forest risks setting wildlife recovery back as much as 100 to 200 years.
In July, Forestry Corporation was issued a stop work order on sections of its activity; a win for conservationists with EPA acting on the evidence of citizens, then conducting its own investigations. Photographic evidence obtained showed serious breaches of forestry rules - the illegal removal of 'giant trees' and breaches of new rules for fire affected forests that prohibited the removal of trees containing hollows.
The investigation into the breaches is ongoing with resolution expected to take many months, possibly even years; non-compliance with the coastal integrated forestry operations approval can attract a maximum penalty of five million dollars.
Community pressures council
The community recently formed the Brooman State Forest Conservation Group to raise awareness of the impact of logging on the region's burnt forests and to open a public discussion about the future of native forest logging in the region.
Brian Bennett, a spokesperson for the group, said, "Forestry Corporation haven't been good neighbours. They've been found to have broken the rules that were designed to minimise their impact since the fires, and now they want access to more. Worse still, they want to shut the main road that gives access to local businesses at a critical time of the year for tourism."
Residents are at this point still able to drive in and out but some, not all, have received letters saying the Sheep Track road would be closed from the end of September for six to 12 months. Unsurprisingly some locals are concerned about the lack of communication.
The Sheep Track is the main road for residents in the area, with the trip into town already taking 45 minutes. Two tourist-oriented businesses operate in the area – the Clyde River berry farm and the Shallow Crossing camping ground – both already a significant drive for visitors. Both are justifiably afraid the extra trek and high likelihood of getting lost will deter patronage.
"This is a local government issue," Bennett insists. "As ratepayers, our livelihoods and lifestyles are being dramatically affected. Our local elected representatives can and should put pressure on the state government to address our concerns. Refusing to discuss it is simply not good enough. I invite them all to come out and have a look at what is happening in the forest."
Councillor Kaye Gartner too is frustrated by the continuous attempt of certain councillors to disrupt proceedings on issues of environmental significance. "For Councillors of Shoalhaven City Council to be uninterested in this, or to think it takes too much of their time..," Councillor Gartner, momentarily, lost for words. "How can democracy work when these really important concerns of constituents are sidelined? My role as a councillor is to bring community concerns to the table, and I will continue to do that."
The South Brooman State Forest is home to several threatened and vulnerable species that use hollow bearing trees including the Yellow-bellied Glider, the Glossy-Black Cockatoo and the Powerful, Masked and Sooty Owls.
Forestry has identified as many as 13 sites across the Shoalhaven that they are considering for future logging including three more sites in bushfire affected areas in the South Brooman State Forest. Eighty-five per cent of south coast state forests were burnt in last season's fires.
Councillors Pakes, Guile, Watson, White, Wells and Proudfoot were the Councillors who voted to defer debate on the motion. Interesting to note these same councillors have been happy to waste the Chambers time on numerous occasions, for hours sometimes, on real matters of total irrelevance. It appears when you have the numbers, and can form a block, you can do anything.
For more information on our south coast forests you may wish to revisit our recent article on the 2019/2020 bushfires and the opportunity for a sustainable recovery. A golden opportunity to pivot by Nick Hopkins