By Andy Hutchinson
The international perception of Australia's citizenry is disconnected from the reality. Overseas, Australians are viewed as if they were the antipodean French - full of joie-de-vivre, always eager for the weekend, not afraid of taking a long holiday and of course lovers of good food and drink. This is partly true. However the other perception of Australia is that this is a nation of casual and not-so-casual sexists; a country anchored to the traditional male and female roles of 1950s society and stuck in a time-warp where Benny Hill is cutting edge comedy and the glass ceiling is reinforced with iron bars. This is much closer to the mark.
The status quo ignores the fundamentally lop-sided balance in society in the name of an easy life. The global #metoo movement did wash over Australian society, but its effects were curtailed by an out-dated legal system that favoured the privileged incumbents and, let's face it, societal apathy. But now the system of male privilege, of casual sexism, of violence against women, of unequal pay, of stunted career opportunities and patronising attitudes is being dragged out into the daylight for all to see. It's too early to say if there will be lasting change, but there is definitely something in the air.
The Truth About Cats and Dogs
The patriarchy has long held a strangle-hold on the so-called elite in Australia. The upper echelons of politics, the judiciary, academia and business are overwhelmingly male-dominated. The boys club makes it possible for generations of incompetent males to rise to positions of great seniority and even to lead the country should they play the game correctly. That many women have achieved positions of power is testimony to their strength; and recognition of their struggles, attacks, obstacles and hurdles placed in their way by the very boy's club, as they rise up through the ranks.
Between 1997 and 2007, the percentage of female politicians in federal government rose from 15% to 30% but since then the shift has plateaued. The Labor party does significantly better than the Liberals in this regard and both fare better than the Nationals. Only in The Greens is there equal representation by women, but since being a Green politician is seemingly less desirable to most Australians than being a member of the neo-Nazi group the Antipodean Resistance, it hardly matters.
Not since Julia Gillard's famous misogyny speech in 2012 has the mask slipped even slightly on the gentleman's club that is federal politics. As Gillard pointed out during that speech, the ultra right-wing Tony Abbott said that men were "more adapted to exercise authority" than women and apparently to "issue command". It's somewhat staggering that such views, harking back to the days of empire and colony could be expressed by a leading politician in the 21st century, but they do suggest that Australian politics and Australian society are stuck in a time-warp.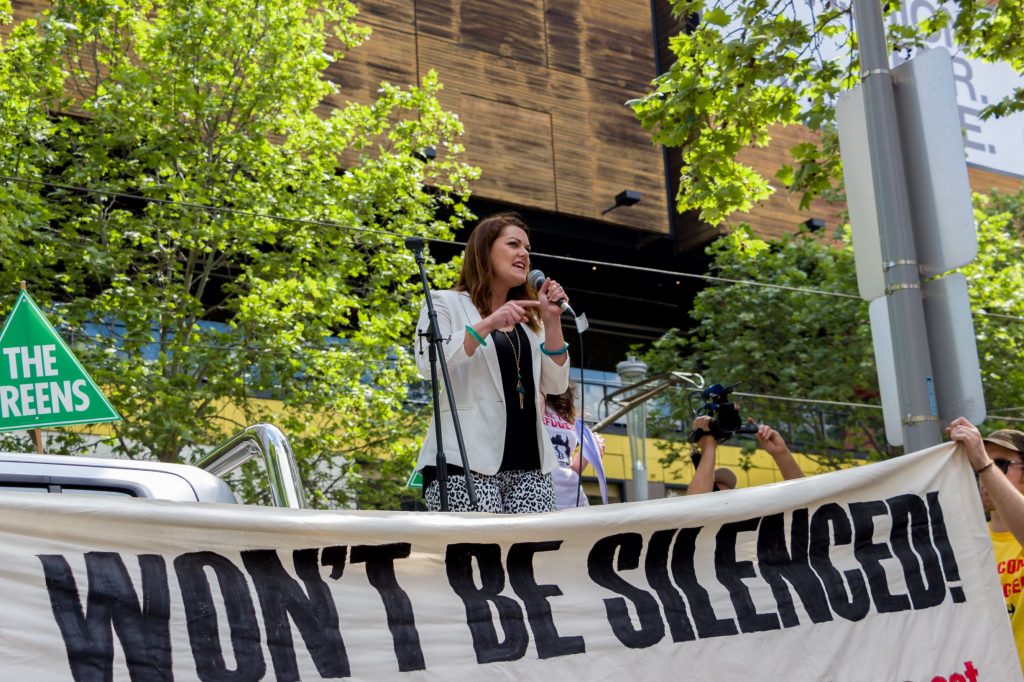 It seems that only by legal force can repercussions be brought down upon the heads of the men who wear their militant chauvinism on their sleeves. It took winning a high court case (and defending an appeal) against former senator David Leyonhjelm by Greens senator Sarah Hanson-Young to draw down any kind of a penalty for suggesting that she should "stop shagging men". Unfortunately, the system of proportional representation in Australia enables throw-backs like Leyonhjelm to win a seat in parliament, and the unrestrained flow of money from mineral-rich billionaires bankrolls it.

He Said She Said
It's hard to imagine a more staggering absence of empathy than that displayed by the reptilian Home Affairs minister Peter Dutton who, when tipping off the Prime Minister's office about an alleged rape at Parliament House on February 12, referred to it as a case of "he said, she said". Dutton then went one stage further and praised Christian Porter as "gutsy" for publicly fronting the historical rape claims. Staggering yes, surprising no. No wonder many of the current front bench LNP politicians belonged to a clique which they called the 'Big Swinging Dicks' club. The Morrison administration is the end result of decades of back-handing boys club politics in which the only aim is to retain power.
And power is what all of this is about - political power, yes - but more than that patriarchal power. There is a type of man, the sort of man who feels superior to the opposite sex and must make that supposed superiority manifest at every opportunity. So they join the family firm, the police force, politics or, if you're Peter Dutton, all three. It's not a huge surprise that Dutton has excelled within the LNP, where the stink of misogyny hangs in the air and envelops its ultra-conservative membership. Nobody is expecting our government to suspend parliament, but the vile dismissal of such serious allegations of rape by Dutton as "he said, she said" or the feeble response from Morrison, "I am not the commissioner of police" are little more than abject cowardice. Perhaps Morrison should ask his wife Jenny how she'd feel if she'd been raped at the age of 16 since this is apparently the only way in which he can understand such situations.
The 'historical' allegation of rape against Christian Porter showed the LNP boys brigade putting their shoulders together and closing ranks as they have repeatedly done when faced with countless allegations of corruption and dishonesty. More recently, Brittany Higgins alleges she was raped by a work colleague in Parliament House and has said that she felt forced to choose between reporting the alleged rape to the police or keeping her job. Perhaps Brittany was asking to be raped by dint of being attractive, getting intoxicated and wearing a cocktail dress? The fact that an intoxicated half-dressed young woman with her dress up around her waist who was discovered by a security guard in a government office was regarded first and foremost as a security breach says it all.
Perhaps, in reporting the alleged rape, Brittany was hoping she would be taken seriously. Instead she was called a "lying cow" by Defence Minister Linda Reynolds who later defended her abhorrent response by suggesting it was "a stressful time in the office."
Root and Branch
The effects of misogyny and the patriarchy, and the shadow they cast over Australian society, are as evident at a local level as they are in the corridors of power. It's a brave woman who raises her head above the parapet and stands for office at whatever level of government. In this highly polarised society misogyny is often evident and used as a blunt tool (double entendre intended) to meet political ends.
Adelaide City Council has launched an inquiry into sexual harassment and assault following a damning Equal Opportunity Commission review into harassment within its state parliament. In Victoria's Colac-Otway Shire Council, Kate Hanson is the only female councillor and says that while she has never experienced sexism, "The culture of the council when you only have one female councillor is — it's male-dominated, our management is male-dominated. The male voices love to be heard first, and it can be tiring trying to push back against that."
Here in the Shoalhaven there have been on-going problems with bullying behaviour, sexist and derogatory comments and outright disruption by a bloc of right-wing male councillors. In June 2020, Mayor Amanda Findley referred to events as "toxic, misogynistic, racist, bullying" in reference to a statement by Councillor Guile against Mayor Findley that "Most people can probably do your job better than you can." Then later on, in a classic case of gaslighting, told Mayor Findley that she "always personalises things."
At a council meeting on March 2, four female councillors - Cr Annette Alldrick, Cr Nina Digiglio, Cr Joanna Gash and Cr Kaye Gartner walked out in protest at the behaviour of a male councillor. Cr Alldrick said that she felt "threatened and very uncomfortable" by the behaviour and noted that the atmosphere was so oppressive that one councillor actually moved seats to be further away from a male councillor. Cr Gash, a previous member of the bloc of 'independent' councillors, said that, "I've had five years with Wingecarribee Council, 17 years as the federal member for Gilmore, and nine years on this council, and I have never, ever walked out of a council meeting before. I'm pretty thick-skinned, but when it comes down to attacking your credibility, then we have to stand up for ourselves."
The Path to Equality
The balance of power in the battle of the sexes began with the suffragettes, shifted after the Second World War and gathered steam during the 1960s. Lately however, thanks to the resurgence of fascist ideologies in the guise of neo-liberalism and gun-barrel Christianity, the scales started tipping back the wrong way. Power-hungry men have seized upon the classic playbooks of the patriarchy to shout down women and to hold them back. Their inaction and silence, when faced with violence towards women, is nothing short of disgusting.
So it is down to other men to step up. The success of the boys club is based on its cohesiveness and as soon as other men speak out, the thin-lipped actions of their peers become transparent. The LNP exists within a moral and ethical vacuum, and its example spreads all the way down through society and gives power to the same male thuggery repeatedly demonstrated by Shoalhaven councillors. More than that, it provides the dark shade that excuses domestic violence, rape and murder of women. The time for silent outrage is over; good men should speak up.
March4Justice rallies will be held across the country on Monday 15th March, 12pm. On the South Coast there are local events in Bega and Nowra, and busses and car pooling operating from Wollongong to Canberra. See the full list of events here.
If you need support 24/7 please contact 
NSW Rape Crisis phone line 1800 424 017 
NSW Domestic Violence Helpline 1800 656 463 
Homelessness Link2Home 1800 152 152 
Lifeline 13 11 14
For confidential information, counselling and support on sexual assault, domestic or family violence and abuse call 1800 RESPECT (1800 737 732) 
Feature image: March for Justice poster from march4justice.com.au