I love Australia and thank the fates that I live here. My love for this place hasn't blinded me to the things that are so wrong here.
I see us on the podium (top three in the world) for most emissions per capita, most energy used per capita, highest garbage to landfill rate, species extinctions per capita. Last year Australia cleared bushland at the rate of four football fields an hour – nearly all for beef production in Queensland and The Territory (25 kg of greenhouse emissions per kilo of beef delivered to the shops and 50 000 litres of water needed for that 1 kilo as well – 100 000 if grain fed). On current trends we'll be the no. 1 land clearer amongst developed economies within ten years. NSW has legislation pending to make land clearing even easier.
I see the driest continent after Antarctica wrecking river after river to support the second highest immigration rate in the world, most of it made up of money migrants and skills migrants, as a lazy way to achieve economic growth and a lazier way to patch up our failing vocational training system. I see an illegal, immoral and very expensive detention system designed to keep people without money and required skills away.
I see secretive and amoral governments cutting down a hundred 100 year old fig trees at 3am in the middle of a long weekend, in the face of community outrage, to drive a light rail service to a privately owned racecourse. I see our foreign aid per capita at about its lowest in history.
I see a youth unemployment rate in my area of 25% being regarded as the acceptable cost of an internationally competitive economy.
And I see laws criminalising reporting of abuse of asylum seekers, and Tasmanian and NSW laws criminalising protests against clear-fell forestry and coal seam gas. And I've seen someone set fire to the Condamine River after CSG came to town.
But I see other things. Side by side with the racism and greed and selfishness and fear and an almost delusional loss of respect for nature and an hypnotic adherence to the idea of doubling consumption every 35 years – 2% growth – forever . . . I also see compassion, respect for nature, generosity, a striving for peace – here and elsewhere, friendship, caring, a rejection of violence and acceptance of others who are different from us. I see a fabulous universal health care system that delivers world class help to the poorest amongst us.
We are all familiar with this climate of caring. If we're lucky, we live in the middle of such an enclave. I live on the border of Booderee National Park, between a forest and The Basin. There is a boat ramp and reserve 400 metres away. And next to it is one of the ugliest public buildings you will ever see! It happens to also be the Ahimsa Sailing Klub.
Founded by Stuart Rees, an emeritus professor, (emeritus does not mean necessarily meritorious – just old or nearly so!); the Klub is made up of a small, eclectic group of people, dedicated not just to sailing small catamarans and small dinghies, but dedicated to all those values that make Australia good.
'Ahimsa' is Sanskrit for 'non-violence'. Try and find another sporting club needing a knowledge of Sanskrit! Rigging requires by club regulation a discussion of the latest trends in Middle East politics. De-rigging requires an environmental debate. In the evenings there are poetry nights – if Stuart can get published, surely there's hope for all of us. Sometimes music nights. There's a table-setting committee to ensure the evening dinners are well laid out. And they are. Once or twice a year Stuart gets the interns from the Sydney Peace Foundation – which he used to head – to come down for a two day regatta and a camp-out. Occasionally he'll bring a family or two of refugees he's sponsoring to do the same. And then there's the sailing. We've tried racing, but it has always failed. Not enough will to win. Not enough mongrel. So we are something rare – a small, cosy, friendly small craft sailing club that is dedicated to cruising – a Buddhist-like devotion to sailing for its own sake. And it's sailing against violence, sailing for peace.
If you ask Stuart what the cornerstones of the club are, he'll tell you: no hierarchy, a belief in common ownership and the gift relationship – sharing with no expectation of reward.
Stuart will don his commodore's cap – but only to lampoon hierarchy. The building is community-owned and the boats are anyone's and everyone's. Food and drink and laughter and political views are all shared – with no expectation of reward. Especially the political views.
But Stuart is modest. Between his three pillars are all that is good about Australia: modest scale, kindness, acceptance of difference and a striving for peace. Many other sailing clubs have come to that  building and all have eventually gone.  But possibly the best little sailing club in the world endures. A marvellous honour to belong. The embodiment of all that is noble that is left in our country. ■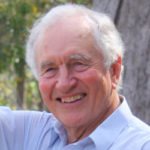 Stuart Rees OAM is Professor Emeritus, University of Sydney, recipient of the Jerusalem (Akl Quds) Peace Prize and author of the new book "Cruelty or Humanity". A human rights activist, poet, novelist, and Founder Director of the Sydney Peace Foundation.