By Bonnie Cassen
2021 didn't turn out anything like I expected. What year does? Lockdowns, restrictions, catastrophic fires in Europe and California and floods elsewhere. The government shrugged off its duty of care to protect children from the effects of climate change. And I was diagnosed with an incurable cancer.
Politics and the climate crisis aside, you may have noticed publishing from the New Bush Telegraph had slowed down dramatically last year as I navigated a medical system greatly slowed down by Covid. I have had to slow down in my role as editor and concentrate on my own treatment options and wellbeing.
What started in February last year with one hard lymph node in my neck, that a friend noticed when giving me a massage, grew with amazing tenacity to much larger lumps. I could feel them growing and clumping in too many places while I went backward and forward between scans and specialists, GPs and pathology. By then I had constant back pain, no appetite and my organs around my liver ached.
The lymph activity was signalling to me perhaps a lymphoma which I was sure was something I could deal with. I had dealt with breast cancer back in 2011, and that was all going fine according to the test results that were coming in. Finally a biopsy named it as stage IV breast cancer. Metastatic triple negative breast cancer is considered a rare cancer with less treatment options than estrogen-based breast cancers. This was now a whole other ballgame.
Stage IV cancers are complicated and incurable, but treatments are available that work to varying degrees for everyone differently. Stage IV means that the cancer has spread from the original breast cancer site to remote parts of the body, but it is still considered and treated as breast cancer, even if it is in the bones or liver or lungs. My metastases were through the lymphatics, liver and bones.
It takes an enormous amount of research to be able to make treatment decisions. And because of the smaller population on the South Coast, there is no breast cancer specialist, and definitely no oncologist specialising in the triple negative sub type. I am yet to find the integrative specialist I require.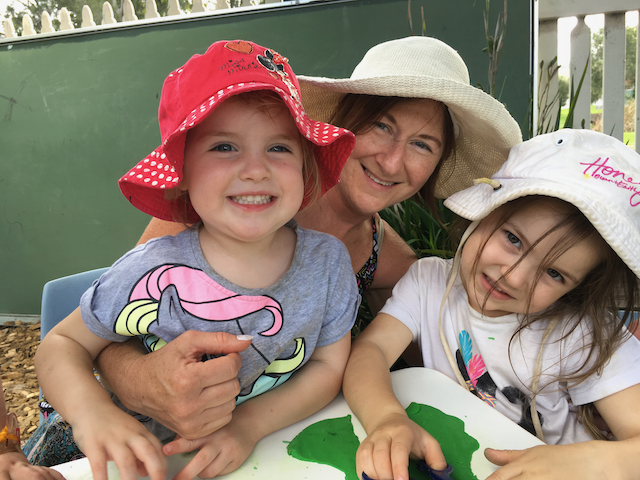 I have just completed six months of chemotherapy and am now taking a month off to give my body a break. I have just had scans and await the results. In January, after four rounds of chemotherapy, scans showed a 50 per cent reduction in the bigger tumours and this time I would love it to show no signs of active disease. We will see. Then there will be more decisions to be made.
During April I will also be in Sydney taking part in some important climate activism, some of which some people may think of as extreme. There has never been a more important reason to be extreme. We all know protest, petitions and the like haven't worked. Our political system is so broken that between Clive Palmer's excessive advertising spending, Murdoch pushing his agenda through his newspaper empire, and the LNP lies going unchecked in the media, anything could happen this federal election.
While Ingrid, Catherine and I have been keeping the wheels of the Bush Tele turning, our capacity during the past six months in particular has been greatly reduced. We all believe The New Bush Telegraph fulfils an important role in the community on the South Coast and beyond.
Our team is small but we have covered a huge number of issues since we went online in March 2020. Catherine is our web designer and Ingrid publishes our content. Last year Richard Bates came on board with editing, proofing and sub-editing work. So many inspiring writers have submitted articles over the past few years, and I have attempted to cover as many environmental and social issues across the region as I could.
We know there are people out there wanting to help and we need support from the community. There are many ways you can assist. Written contributions that meet our content guidelines are always welcome or maybe you have a skill you could offer in a volunteer capacity. Editing, proofing, social media and Google skills are greatly needed. Our Twitter and Facebook presence definitely needs work. Currently we have a few openings on our management board too.
We are also working on making The New Bush Telegraph financially sustainable so it will be a stable publication for the future, as well as building up our reader and subscription base.
Please consider donating to The New Bush Telegraph fundraising campaign to cover operational costs.
In the meanwhile if you see me around, I do still have hair and so look normal and not too sick; it's amazing what hair can do. The chemo I have been on so far only has hair thinning and not hair loss as a side effect. I still haven't got the comb-over look perfected, but guys, I am totally up for it; bald spots are meant to not be seen.
I have started a blog although I have yet to post on it. It was intended as a way to keep friends and family up to date without having to talk about my disease too much, which can be quite negative sometimes. Please feel welcome to take a look from time to time.
Right now I still have things to do in this world, and while I am here, I intend to live life to its fullest. Some days fatigue gets the best of me, and I struggle just to get out of bed, but most of the time I can laugh, love and enjoy the magic that only life on this gorgeous planet can offer. And that's something I aim to do in abundance. Everyday.
Feature image: Bonnie Cassen. photo supplied