By Bonnie Cassen
The Lake Heights property dominated by a heritage-listed fig tree, and passed in recently at auction, is again under the hammer as residents call for it to remain as a greenspace park.
Nearly 40 protestors turned up to witness the auction, although there were no bidders to be seen.
The majestic fig tree that overshadows the majority of both 6 and 8 Grandview Parade is currently for sale by the Land and Housing Corporation. It has a restricted building area and a 149 Zoning Certificate protecting the fig and prohibiting its removal.
Expert arborists have confirmed the extent of the trees extensive root system and fear any disturbances will compromise the viability of the tree. Peter Maywald, convenor of the Neighbourhood Forum 7 group, believes that any development on the blocks of land will have a detrimental effect on the health of the fig tree.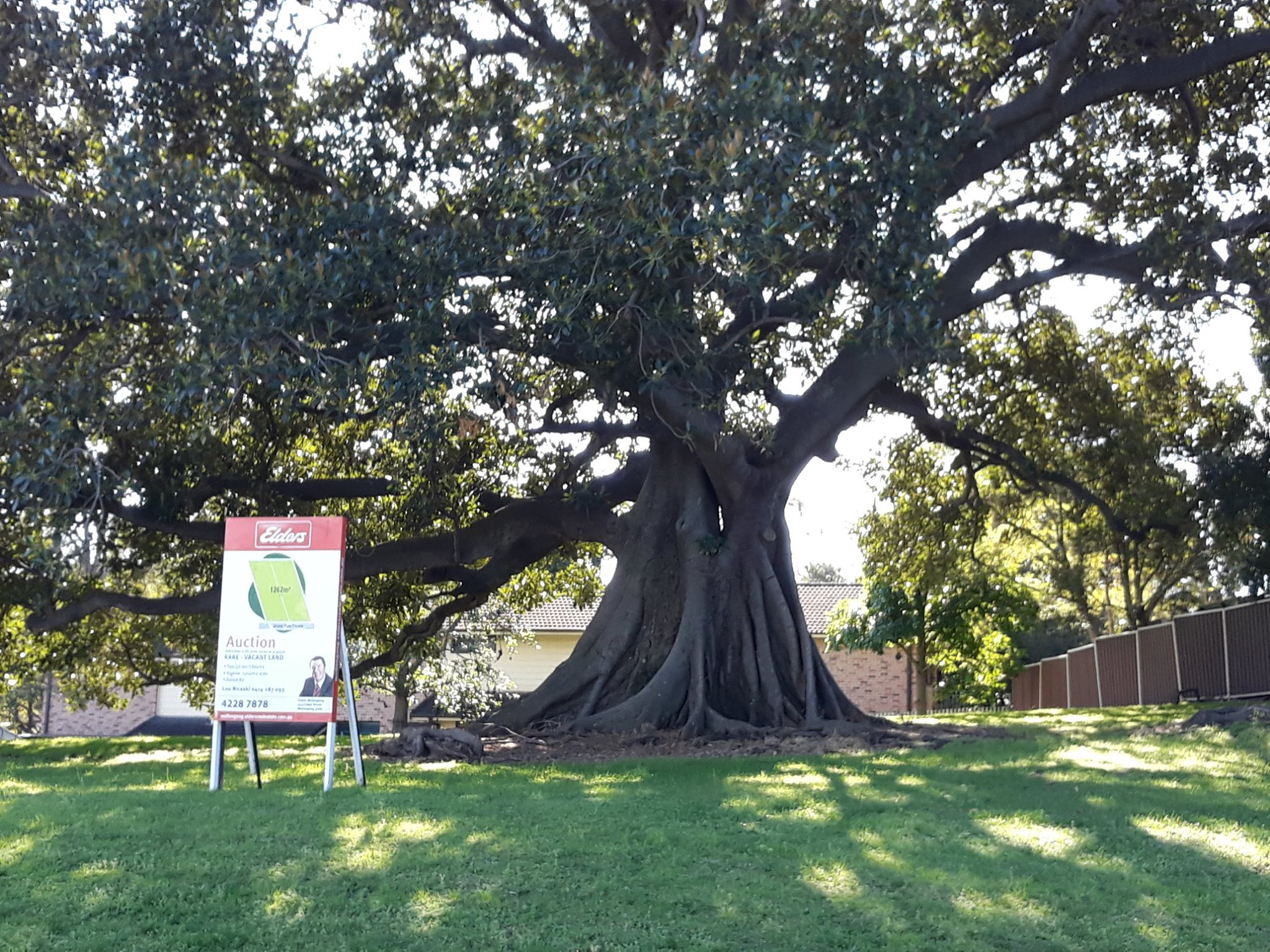 Melinda Pavey MP, the responsible Minister, indicated this week that the Land and Housing Corporation made several approaches to Wollongong City Council between February 2019 and April 2020 seeking alternatives to listing the blocks for sale, without reaching a meaningful conclusion.
Further, the Land and Housing Corporation have continued to discuss possibilities with Council since the failed auction. We understand that the Land and Housing Corporation expect Council to buy the blocks at market value.
"Just over two months have passed since the issue was first raised with the government," Maywald said. "The Community is of the strong opinion that the most effective way to recognise the heritage value of the fig tree and to ensure its protection is for the blocks of land to remain in public ownership and ideally under the ownership of Wollongong City Council."
Taxpayers have already contributed to the purchase of this land and ideally the Land and Housing Corporation can negotiate an agreement that 'gift's' the blocks to Wollongong City Council.
Maywald said the Neighbourhood Forum 7 group have written to Minister Pavey urging her to inspect the blocks of land for herself so she can understand the community sentiments and concerns for the fig tree.