By Stuart Rees
In this election, let's not hesitate to talk about character and how personal qualities affect policies. Let's talk about altruism not egoism, of long term common good rather than striving for short term gain.

Australian society needs caring, compassionate and selfless citizens. Gilmore MP Fiona Phillips displays those qualities.

Her question 'how can I help you?' contrasts with the neo-liberal economic concerns 'how to get ahead?', 'how to gain political advantage?', 'how to market your image?' and even, 'how to browbeat an opponent?'

Fiona opposes such conduct.

She has a deserved reputation for checking on the welfare of thousands of older residents. During the heavy rains, Fiona and her army of volunteers have overseen the safety of people in flood affected areas.

Her compassion is coupled to an understanding of economics, local politics, business and education. A mother with experience of farming, an educator with a business background, it's not surprising that this multi-skilled woman is an effective representative of her constituents.

Let's identify the 'how can I help you?' qualities. In policy areas - care of the elderly, of children, and young people, of the environment, and on issues concerning mental health, domestic violence, housing availability and affordability, every constituent needs these caring traits.

A highly significant feature of altruism is to see housing - a roof over your head - as a human right not as a means of financial gain.
In Gilmore and across the nation, citizens need altruism not selfishness, they want commitment to a long term common good as in massively improved resources to care for the vulnerable elderly. A majority of residents appear to want improvement in roads and transport. In day-to-day personal conduct, they want to encourage everyone to treat men and women as equals. Young people in particular regard protection of the environment as a priority.

To label Gilmore a caring constituency, would be a significant tribute to an MP who does not fit the mould of an aggressive politician.

When catastrophes from climate change threaten the future, policies for caring display a life enhancing commitment to reciprocity and to recognition of people's interdependence, hence this brief profile of Fiona Phillips. Such a profile gives answers to this key question, 'how can I help you?'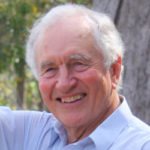 Stuart Rees OAM is Professor Emeritus, University of Sydney, recipient of the Jerusalem (Akl Quds) Peace Prize and author of the new book "Cruelty or Humanity". A human rights activist, poet, novelist, and Founder Director of the Sydney Peace Foundation.
Feature image: Supporting community, Fiona Phillips at the Christmas luncheon of the Mollymook View Club in December 2021. View Clubs are a women's organisation supporting and advocation the education of young disadvantaged Australians. Photo credit: Shoalhaven Labor/Facebook