By Bonnie Cassen
In a shock announcement the NSW Independent Planning Commission (IPC) has approved Santos' Narrabri Gas Project. The decision was announced today despite overwhelming opposition to the project — including submissions from over ten thousand people — and in complete dismissal of community rights and scientific evidence.

The project involves Santos drilling 850 coal seam gas wells on 1,000 hectares of a 95,000-hectare site that spans across the Pilliga forest - a sacred place for Gomeroi/Gamilaraay people - and nearby grazing land.
Trish Kahler from CSG Shoalhaven had a restless night's sleep, knowing the results of the IPC inquiry would be released at 9.30 am this morning. "Absolutely gutted," was Kahler's response when asked how she felt about the decision. And her was voice audibly fierce as she said it would lead to "more climate change, more fire threats and obviously more threats to our water".
"We had a chance to have a more sustainable Covid recovery and instead we get a gas fired one. It makes no sense to fund a short-term industry, rather than moving straight to renewable energy." She said.
The controversial $3.6bn development has 134 conditions, which must meet specific requirements at various stages of the development before each can proceed. There were some elements of the project that were not approved including the construction of a gas-fired power station at Leewood, worker's accommodation and infrastructure that allows gas flaring.

While there are still other approvals to be obtained, the IPC decision is believed to be the key to the others falling into place.
Lock the Gate spokesperson Georgina Woods was disappointed by the approval saying, "responsibility for this disaster lies squarely with the government. Planning Minister Rob Stokes gave the Commission a few short months to consider a huge range of complex issues and the views of over 11,000 people that made submissions."
Information about leaks and spills from Queensland coal seam gas fields were ignored by the Commission and requests for independent expert advice about groundwater and greenhouse emissions were refused because of the impossible timeline imposed on the Commission by Minister Stokes.
Santos Chief executive officer Kevin Gallagher said, in a statement released this morning, that "Santos is excited about the prospect of developing the Narrabri Gas Project, a 100 per cent domestic gas project that can provide the lowest cost source of gas for NSW customers."
There is significant disagreement around Santos' claims that projects such as Narrabri will assist with economy recovery from COVID-19, or in creating jobs, driving investment for regional development, or delivering more competitive energy prices.
"There's a very good energy transition plan produced by Beyond Zero Emissions - The Million Jobs Plan - that the governments could be following. There is a better way," says Kahler. "It's what NSW and Australia needs right now. It's a very good realistic plan and would serve us all a lot better than the Narrabri Gas Project."

The project threatens the livelihoods of the farming community and everyday Australians when they should be supported through the bushfire recovery, drought and pandemic with a recovery package that builds back better outcomes for climate and nature.
"Experts have warned the commission that this gas field threatens underground water supplies, farmland, and the stressed koalas of the Pilliga." Lock the Gate's Georgina Woods adds. "It will create dangerous amounts of greenhouse pollution and fuel climate change, and that Santos' modelling and assessment were flawed and superficial."
The path out of economic downturn is not the Morrison Government's undemocratic push to fast track the Narrabri gas project and erode community rights. Instead, governments and businesses need to be championing a clean energy revolution with jobs and growth through manufacturing and construction in the renewables sector and protecting forests for freshwater and wildlife.
"Santos now has the green light to desecrate the Pilliga forest – turning it into an industrial gas field that will damage groundwater, carve up the forest and endanger koalas and other threatened species" Nature Conservation Council campaigns director Dr Brad Smith said today. "Never has a project in NSW seen such enormous public opposition at all levels – from the Gomeroi Traditional Custodians who fought to protect the enormous traditional significance of the Pilliga, to the 404 people who appeared at a record seven days of public hearings"
The NSW Government has turned its back on traditional owners, farmers and local communities in North West NSW who are fighting to protect their water, land and livelihoods. However, this decision threatens all Australian's while state government and planning authorities bow to federal pressure in supporting gas projects that release millions of tonnes of potent climate pollution. Existing coal and gas fields are already pushing the world past globally agreed temperature goals. There is no room, or need, for more fossil fuel projects.
Propping up the gas industry is counterproductive to Australia's obligations under the Paris Climate Agreement and locks us into a future of climate disruption and crisis. Gas is still a fossil fuel contributing to greenhouse gases. In fact, gas is worse than coal, as methane is 84 times more deadly than carbon in the atmosphere.
This is a key moment for Australia's future, and the opportunity to invest in renewable infrastructure has been lost. A good economic recovery means better outcomes for community, climate and nature, not just mining profits.
Once built, it is estimated the total greenhouse gas emissions produced by the project over its lifetime would be equivalent to 127.8 million tonnes of carbon dioxide.

A transition away from gas would be a far more responsible decision to be making in 2020; despite Australia's weak target of 100 per cent renewable energy by 2050, it is common knowledge that it is 20 years too late and the real transition date is 2030.
A lack of leadership and political will is blocking important progress. Put this in comparative terms, AGC wants to transition from gas to renewables, sustainable projects are taking off all over NSW, many driven by community efforts. Even the NRMA, the peak motoring body in Australia, has recognised the need for change, and that all combustion vehicles production must cease by 2030.
"If the government wants to do something about gas," adds Smith, "it should focus on electrification of Australian businesses and households with heat pumps for hot water, reverse-cycle air conditioning for space heating and induction cooktops. Jobs and industries are already built on clean energy technology and NSW is getting left behind."
The question remains as to how the government will ensure the IPC's conditions aren't swept under the rug and requires Santos to come up with a salt management plan and a compliant groundwater model before construction commences.
Independent NSW MLC Justin Field said this morning, "This is a hugely disappointing decision that fails to recognise the level of public opposition and the economic and environmental risks of this project. The fact that this project has been approved in 2020, in the face of a climate and extinction crisis, shows that our planning system is broken."
Field further believes that the community now have no choice but to physically stand in the way of this project. The IPC decision has far reaching consequences with this approval opening the door for the renewal of ten or more coal seam gas exploration licences from the Hunter to the Queensland Border. This is huge.
It appears the NSW Government has forgotten the monumental community campaigns against coal seam gas which stopped this industry expanding across much of the state. Those campaigns will be reignited by this decision.
Mullaley farmer Robyn King said that she and other Narrabri locals who opposed to the project would not give up. "This is the fight of our lives and we can't afford to give it up. We owe it to the generations that come after us to stop Santos from wrecking this region," she said. "We will not sit back and passively accept this politically-influenced decision."
Field, like many today is angry and disappointed by the approval. "Clearly the NSW planning system is weighted against the public interest. What does it take to reject a project if more than 23,000 public objections can be ignored?" He said.
"How can the community have confidence in an independent planning process when the Prime Minister announced Federal Government intervention in the gas market and publicly called for the Narrabri Gas Project to be approved during the assessment."
The level of political pressure exerted to influence this decision was extreme and will only serve to inflame public anger. Renewables already are cheaper than fossil fuel energy with industry opinion confirming the project will produce some of the most expensive gas extracted in Australia. Despite the propaganda we are hearing, people should not expect a reduction in gas and electricity prices from this approval.
"The IPC has been misled by Santos and the Federal Government who have a long record of misrepresenting the facts about coal seam gas," Field said as a final warning. "The IPC is wrong to rely on conditions to manage the risks from the project."
It is more than apt to give Gomeroi woman Polly Cutmore the last word, although her words do speak for many.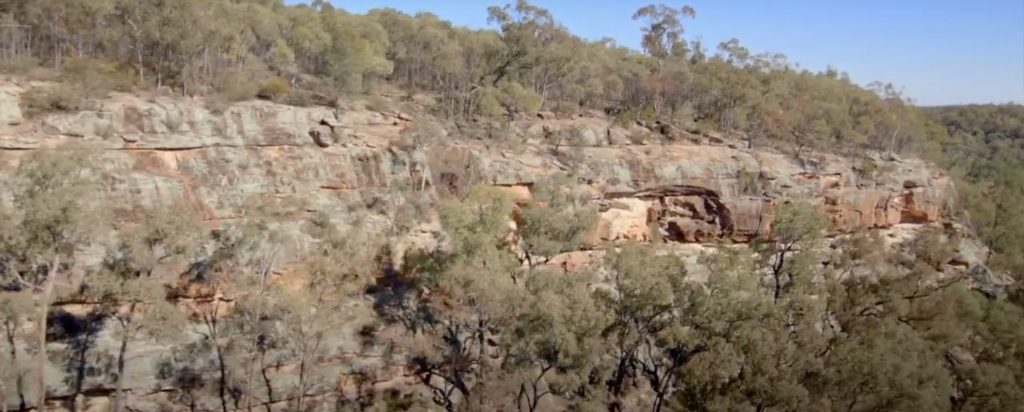 "Our people don't want this gas field and we are here to tell the government, Santos and their investors that we will keep on fighting it," she says. "The Pilliga is Gomeroi land and Santos is not welcome there. We will never stop fighting to protect the Pilliga and protect Gomeroi country from coal seam gas."
Never.
CSG Free North West Alliance and Lock the Gate are asking you to take action to let the NSW government know you oppose the IPC decision. The NSW Independent Planning Commission granted approval to Santos' Narrabri coal seam gas field, putting land and water at risk. If you're angry and upset, make sure the NSW Government hears from you by making a call today .