By Stuart Rees
Victor Yeimo, leader of the West Papuans' struggles for freedom has been in prison since May 2021. The world needs to know. To argue for his interests, Australia needs to summon a touch of courage. Without persistent pressure on the Indonesian government to provide urgently needed medical treatment for Victor, he is likely to die in prison, another casualty in the histories of colonial administration.
Seen by Indonesian authorities as the leader of the West Papuan civil protests in 2019, the accumulation of charges against Yeimo labels him guilty before any trial. Arrested by elite troops known as 'Satan's Forces', whose brutality is hidden from view but apparent in a list of charges: criminal conspiracy, incitement, theft using violence, illegal possession of arms, storing arms plus multiple legal provisions such as disputing the Indonesian flag and emblem. Finally, the treason charge for expressing his political opinions.
The police claim they'll easily find – or concoct – more charges. Their chief boasts, 'Let him get old in prison.'
In solitary confinement in an Abepura prison cell, not allowed to see his family, Victor Yeimo is dangerously ill. Doctors have commented on a gallbladder infection – empyema – that will become life threatening if not treated.
Victor has a history of gastric and lung disease. He suffers from tuberculosis, and if the current denial of the necessary drugs persists, he could die within a year. Who cares? This is only an Indigenous leader seeking independence from a duly constituted colonial government.
Although distracted by war in Ukraine, Australia should pay more attention to events close to home. Griffith University researchers conclude that in the previous fifty years, the killing of half a million West Papuans amounts to a slow-moving genocide.
Benny Wenda, an Indigenous Papuan leader in exile in the UK knows why his brave compatriot Victor seeks his people's human rights. Wenda says, "We do not have freedom to raise our flag. If we do, we'll be killed or imprisoned. We are treated like animals and endure apartheid like military occupation."
This is the context in which the head of the Indonesian Intelligence agency in West Papua had been killed by so called insurgents, albeit in their own country. Yeimo and his colleagues were then called terrorists, that 21st century stereotype used to allow government agents to do what they like and never be held accountable.
Fear dominates West Papuans' lives. Their rights have been eroded by Islamisation, the country flooded with new migrants from Java, a people of different ethnic background and religion. Such an invasion is a variant of the colonisation virus.
Rotting in his prison cell, it is no consolation for this thirty-nine-year-old West Papuan to know that he follows a long line of brave campaigners for human rights whose views have been and are being stifled by authoritarian governments. Nelson Mandela in South African prisons for twenty-seven years, Kurdish leader Abdulla Ocalan locked in a Turkish jail since 1999, Marwan Barghouti the Palestinian leader serving several life sentences in Israeli jails, Alexei Navalny incarcerated in a distant Russian prison.
To underline the cruelty which makes empire fading colonial governments seek extreme punishment against anyone who dares to challenge them, think only of the recent decision of a London court to allow the extradition of Julian Assange to the US. This unique, brave journalist, whistle blower, publisher faces the prospect of 175 years in a US jail. Who cares?
Victor Yeimo's condition is deteriorating. A colonial government's abusive power is protected by journalists' lack of access to West Papua and to the prisoners held for protesting Indonesian rule.
At least under the guidance of Dr. Cammi Webb-Gannon, the West Papua project at the University of Wollongong keeps the fate of West Papuans in a public mind, but protest from an Australian government could also lessen the fears of all Papuan citizens and save the life of a brave, significant leader.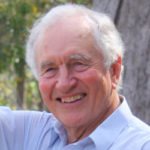 Stuart Rees OAM is Professor Emeritus, University of Sydney, recipient of the Jerusalem (Akl Quds) Peace Prize and author of the new book "Cruelty or Humanity". A human rights activist, poet, novelist, and Founder Director of the Sydney Peace Foundation.
Feature image: Victor Yeimo, leader of the West Papuans' struggles for freedom has been in prison since May 2021. The world needs to know. Image credit: AK Rockefeller/flickr.com