By Bonnie Cassen
It's exciting to have some local Shoalhaven climate events happening around the area with the Shoalhaven Extinction Rebellion group launching last Saturday with a 'die-in' in Berry. The group is part of the broader international movement that established in Australia late in 2018.
Extinction Rebellion's philosophy is simple, and one we can all identify with - they refuse to bequeath a dying world to future generations by failing to act now. Their dramatic actions are like smoke alarms trying to wake everyone up. Are you going to bash your smoke alarm and say, 'How dare you wake me up in the middle of the night' when it's just saved your life? Yet that is exactly what society is doing.
The mainstream media gives little attention to the truth around climate change and plenty of weight to government propaganda. People who watch the news on commercial television repeatedly hear Morrison sprouting what a good climate policy Australia has and how we will effortlessly meet our Paris obligations so you could be excused for believing it.
The Climate Emergency Declaration
The local group was formed by residents who, after living through the horror of last summer's bushfires, were disillusioned with the government's inaction on climate change at all levels. Shoalhaven Council has a very clear strategic plan charged with protecting the environment as one of its primary goals and yet the Climate Emergency Declaration has been blocked by a conservative majority both times it has come before the council.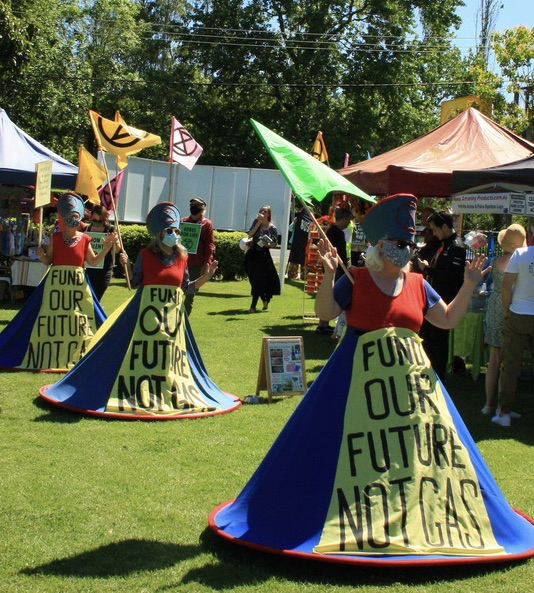 In Australia, nearly 100 councils have signed up to the Climate Emergency Declaration, representing almost 35 per cent of the population, low compared with United Kingdom's 90 per cent coverage and New Zealand's 76 per cent. Every council that signs up puts more pressure on the state and federal governments to take decisive action on climate change. It also focusses local council efforts and planning direction and reinforces the commitments of the strategic plan.
Why civil disobedience
The Berry event went well, part of it was breaking the ice and having the courage to undertake civil disobedience – in this case, creative and dramatic street theatre to cut across the disconnect and get the attention the cause deserves. Despite ongoing reports to the contrary from some media outlets, Extinction Rebellion is all about nonviolent, peaceful protest.
To slash another myth created by certain media, Extinction Rebellion isn't all young punks with black jackets and safety pins through their lips and noses, and spiked up hair, although the movement does welcome everyone. Gabrielle is a very average looking citizen and Ev, a new member from Nowra is 73.
When asked why she joined and was protesting, Ev replied, "I am a 73-year-old grandmother. We know the science, we are living the effects of a heating world yet our governments, at all levels, continue to ignore the climate emergency and pander to the fossil fuel industries. I can no longer stand by while our planet cooks. If we must rebel, then I am in."
Ev isn't alone; grandparents are fast getting the message, concerned for the future their grandchildren will face. Many grandparents I talk to are tired of the complacency of others, their relatives included, and are prepared to do whatever it takes to get their attention.
Anyone who has ever studied even the most introductory sociology will know, the way, the only way, to break through stubborn, corrupt or elitist rule is through civil disobedience. Individuals peacefully exercising their democratic right to free speech, voicing opposition to unfair and unjust government actions and laws.
In Australia, these actions usually amount to blocking streets or transport in peak hour conditions in capital cities. It gets attention for the cause, and arrests get even more publicity. Nothing too sinister. Although, whatever it takes, has been established as the boundary.
Local actions
The Berry event on Saturday, staged around the Broughton Court pedestrian area, was less disruptive and more thought provoking with the group performing a suggestive 'Die-in' where individuals collapsed, and lay as if dead, on the ground, demonstrating the threat we all face with climate collapse.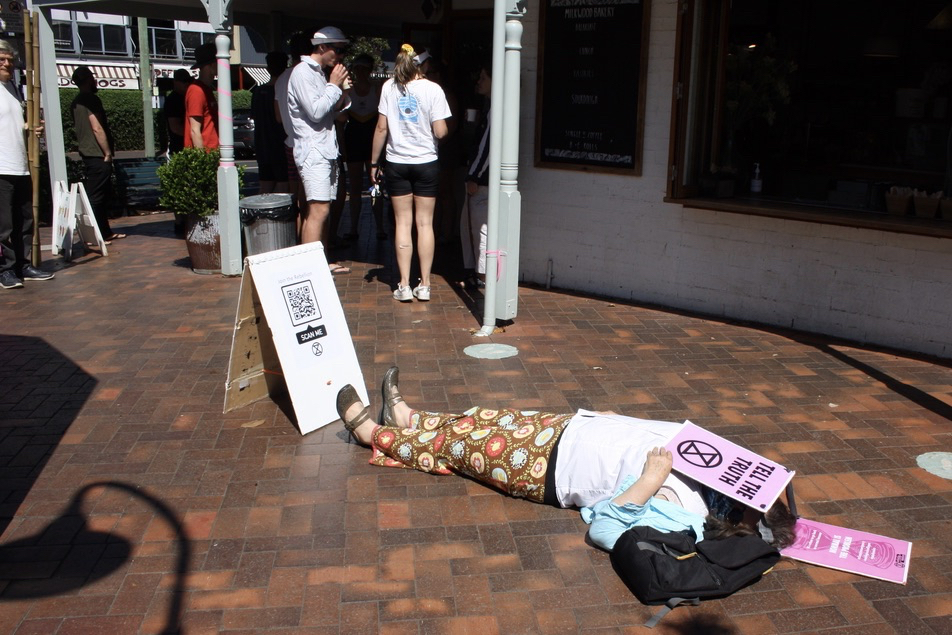 "The response from the public was very positive," Gabrielle, one of the organisers told me. "A lot of people were curious, a few a bit bewildered. There was no negativity, and we gained some new members, which was part of the aim."
Public events such as these in communities, normalise climate activism. Street theatre bridges the communication barrier and cuts to the core message. It's hard to miss the truth. Observers can see the people involved are their neighbours, and people just like them, so it is crucial to be prepared to stand up and take on active roles.
"We don't have time to wait. This is the most important issue facing us right now," Gabrielle said. "Our neighbouring councils Wingecarribee, Wollongong, Kiama and Bega have all declared a climate emergency. What we want our council to do is to move into emergency mode and by doing that, make decisions that recognise the emergency we are facing."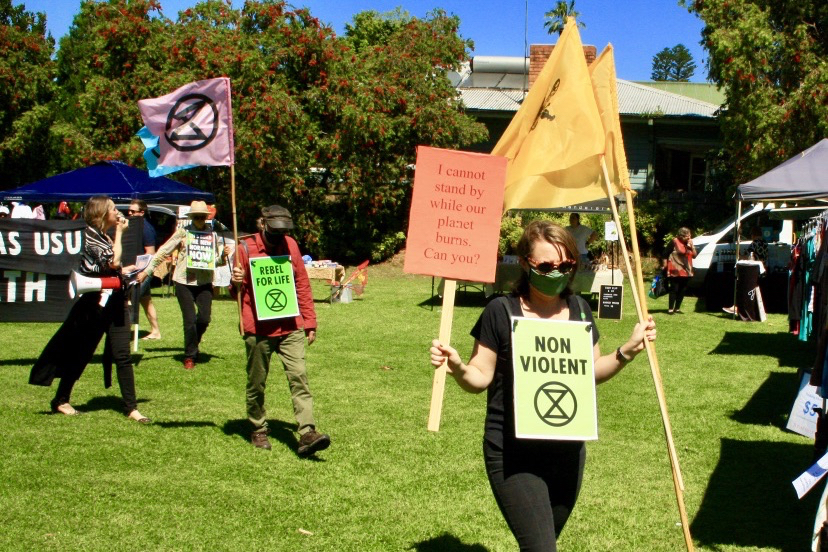 The climate and the environment, above politics
The group say they are not political but want the council to recognise the drought, water crisis, bushfires, and then floods are all compounding an ecological crisis driven by climate change. Accepting this one fact as a council would focus the region towards mitigating the damage and detriment for future generations. It is councils joining together that paves the way for change at state and federal levels.
The main argument against adopting the Climate Emergency Declaration last time the notice of motion was put to Shoalhaven Council was the wrong timing due to Covid.
Gabrielle, like others in the group, finds the situation extremely frustrating. "We have a very supportive major, but we're being blocked by a very conservative faction within the council."
At the Berry launch, men and women lay down on the pavement in mock death to voice their fear for the future if the climate emergency isn't treated like the emergency it is. It is extreme deeds such as these on a larger scale, that historically have led to governmental change.
We all inherently know the reality of the ecological crisis we face and the consequences for humanity. If you've heard Sir David Attenborough's warnings, and who hasn't, you would have been hit by the plea's coming from a man of his respect and stature. Yet time after time we are soothed, perhaps by Morrison's gleefully glib reassurances, maybe because it is just a difficult subject to get your mind around. Complacency, however, is no longer an option.
A rebellion against extinction
It's hard to believe our biosphere is breaking down when so much in our day to day lives appears so normal. Yet many of our animals and plants are already close to extinction; and everything is happening exponentially - much quicker than we once thought. Bushfires are the biggest threat with higher temperatures driving further drought conditions and even the enormous quantities of rain flooding some areas, isn't enough to regenerate the fire-damaged forests.
The reality is that we could lose all our forests on the south coast to fire and the wildlife that calls these habitats home. We live with this reality now, every fire season, every summer day as the temperature creeps past 38 degrees.
Despite scientists, their own Defence experts, writers and activists sounding alarm bells for more than 30 years, the messages fall on deaf ears, instead acting on fossil fuel and mining agendas, and its drive for economic development and recovery at any cost.
"By taking more radical measures," Gabrielle says, "we are hoping to cut through to that awareness and get people to join us and help force political change. We want to give people hope, show that other people also care, and that there is a movement to take you with it."
The first step is getting Shoalhaven Council to declare a climate emergency. That one of the areas most affected by the bushfires hasn't signed the declaration is crazy according to Gabrielle, and she and her group are determined to make it happen, and soon.
Further actions are planned across the Shoalhaven and south coast, engaging towns and local people. Eurobodalla too has yet to declare the emergency, although a number of climate and sustainability groups in the area would love to get the motion passed by their council.
Anyone interested in engaging with Extinction Rebellion Shoalhaven can contact them via email XRShoalhaven@protonmail.com or their south coast Facebook page  
We understand that some of the content of this article may be upsetting. It is helpful to talk about how you are feeling with people who understand. We are all in this together and together we are strong. We all feel overwhelmed at times however if you are in crisis or feeling suicidal, there are professional services with 24 hour phone online chat and text service you can contact. Lifeline  131114 – Suicide Call Back Service 1300 659 487 – MensLine 1300 789978 – Kids Help Line 1800 55 1800 – 1800 RESPECT 1800 737 732.