By Richard Bates
Having seen the grossly inappropriate Moona Street hotel development in Huskisson withdrawn in the face of massive community opposition, the community now has another environmental nightmare development looming. This time a 32 unit monstrosity right on the banks of Moona Moona Creek, immediately adjacent to both the NSW national park and the Jervis Bay marine park.
A more unsuitable site for a residential apartment building is hard to imagine but the developer-friendly councillors on Shoalhaven Council thought it was a good idea back in 2011 and approved it with barely a second glance.
The existing Aquamist building on the site next door is bad enough (and is testament to Council's bad decision making) but now the new owners of 4 Murdoch Street have approval to build a second set of twin 3-story buildings comprising 32 luxury apartments with an underground carpark for 64 cars and a swimming pool. This is right next to Moona Moona Creek, near its mouth and smack bang in its immediate floodplain.
A fence has been erected and it looks like the builders are getting ready to move in, despite development approval being given way back in 2011. That approval was to have expired in 2016 but by then the developers claimed that substantial work had already been done on site to initiate building and Council agreed. Council staff will only say that work was of the nature of "engineering designs and investigations" which is about as vague as you can get and does not appear to include physical work actually commenced, the claim of which in letters to Council from the proponent's surveyors seeming to hinge on surveys and "field and laboratory investigations" undertaken in 2015.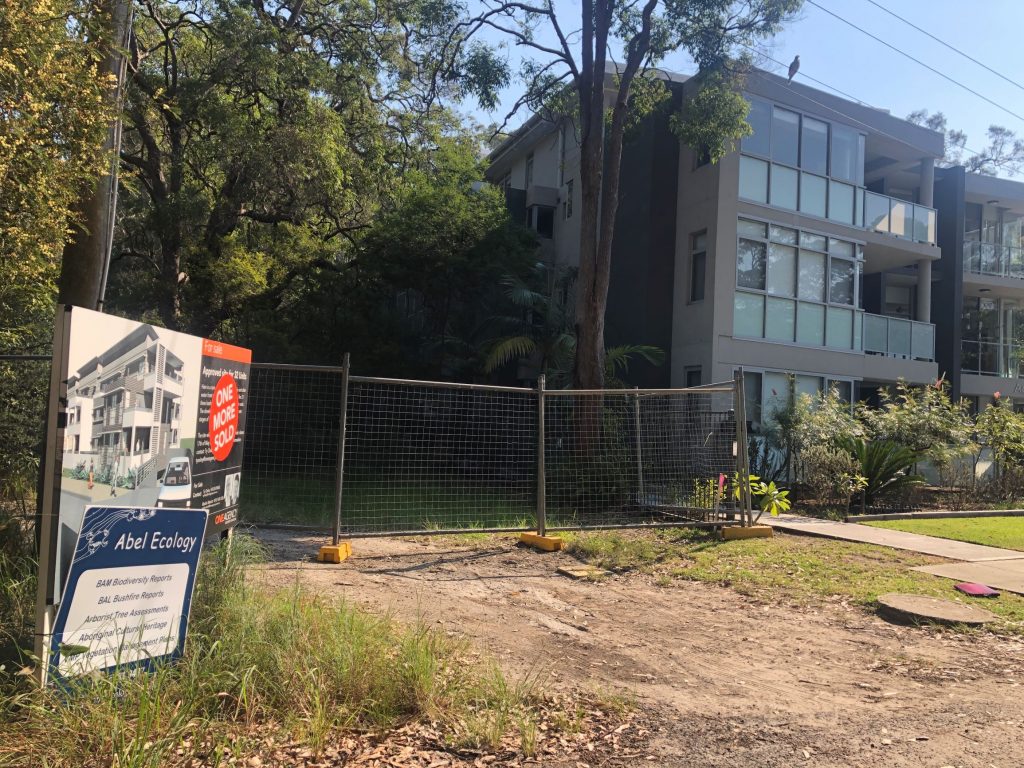 In any case it is hard to see that any work had actually been started. If no work had been started before July 2016 then the approval would have lapsed.
Incidentally the law was changed a year or so ago to prevent just this sort of thing happening. Now testing and surveying does not constitute commencement. The community deserves to know what that actual physical commencement consisted of which warranted Council signing off on a DA which would otherwise have expired. As it is the site has just been sitting there waiting for resale with development approval on a highly contentious building yet to be commenced.
Community members have been unable to find out who owns the land at 4 Murdoch Street, who the developers are, who the builders will be or even who the private certifier is. Council has allowed a private company to ensure that all conditions of approval are met with instead of Council staff. So we have no idea of who this company or individual will be, not to mention their level of expertise in monitoring sensitive coastal sites or even the Shoalhaven – something that our council is at least qualified to do in terms of local knowledge and experience.
There are a raft of conditions that have to be met and signed off on by the private certifier before Council will issue a construction certificate but the community won't know about any of that until building work commences.
Our Future Shoalhaven believes that the age of this proposal and approval makes all the environmental considerations written in at the time redundant and largely irrelevant. In the 10 years since approval we have made great leaps forward in our understanding of appropriate and inappropriate developments in sensitive coastal locations. Sea-level rise is a huge factor and our understanding of the effects of climate change need to be revisited on DAs more than 10 years old.
These buildings will be less than 40 metres from the banks of Moona Moona Creek, a watercourse that has had its banks altered by major bridgework since it was last mapped, yet there has been no recent survey of the creek and estuary to determine its current course relevant to the proposed development.
Jervis Bay is the jewel in the Shoalhaven's crown, but for its environmental uniqueness not as a development opportunity. Yet time after time the community has to fight inappropriate proposals allowed by the developer-friendly majority on Council. It is the creeping impact of ongoing development, the cumulative damage to the environment, that is so odious.
Moona Moona Creek and its mangroves are a critical hatchery for small fish and essential for the health of Jervis Bay. It is a still healthy environment that gives us the white sands of the Bay (although they are not as white as they used to be) yet stormwater from ongoing suburban development, such as the massive Bayswood housing development, ends up in the mangrove habitat.
How much more of this can Jervis Bay take before adverse environmental effects are noticeable? Now someone wants to build an apartment complex right on its banks. How can that have the neutral or beneficial effect on the creek and bay that the legislation requires the developer to attain?
Our Future Shoalhaven would like community members to rise up yet again and protest this disgraceful proposal at 4 Murdoch Street, Huskisson and has compiled a handy list of points to make in your letters and submissions.
Questions or concerns you could send to your political representatives:
1. Given the original flood report was prepared in January 2011, and since then Council has commissioned a new report for the area and modifications have been made to the Moona Moona bridge, is the flood report up to date enough?
2. Controlled Activity Approval must be obtained for works in, on or under waterfront land. Waterfront land is land at or within 40m of the bank of Moona Moona Creek. The creek bank is 33m away from the lot boundary and the roadway which will be used by construction vehicles is far less than 33m. What consideration has been given to this? NSW Office of Water report called this 'marginal encroachment'; is this a fair assessment? Who will monitor the impact of this traffic movement and the consequences for Jervis Bay water and ecology?
3. Accuracy of the presence of acid sulphate soil is vital to safe-guarding the health of Moona Moona Creek, surrounding gazetted fish breeding zones, and the safe construction of the buildings. Further testing has been proposed during construction and appropriate action taken, however what assurances can be given that the complex action that would be required is carried out correctly?
4. The Council's Natural Resources and Floodplain Unit stated that basement car-parking in flood prone land is not recommended yet approval was granted. Considering flooding in the area is very likely to increase we would like to question why this underground carpark has been permitted.
5. NSW Coastal Policy 1997 Goal 1: Protect, Rehabilitate and Improve the Natural Environment Strategic Action states "Land (including submerged land) identified as having high land and /or marine and estuarine conservation values will be, where privately owned, assessed for acquisition to the Natural Parks or Crown Reserves systems or for declaration as a Marine Park or Aquatic Reserve with the consent of the owner". This would appear an appropriate strategy to follow in the circumstance of 4 Murdoch Street.
6. Department of Primary Industries assessing the proposed residential development at 3 Moona Street, Huskisson stated: "The proposed development is located within 100m of Moona Moona Creek. The waterway at this location is classed as Type 1 key fish habitat and is within a habitat protection zone of Jervis Bay Marine Park". DPI went on to list 13 conditions for any development that are not attached to the 2011 Development Approval for 4 Murdoch Street (considerably closer to Moona Moona Creek). Surely this DA approval should meet these same standards.
7. This is the most sensitive environmental project that could be proposed in the Moona Moona Creek estuary and its outflow into Jervis Bay Marine Park; it therefore follows that the implementation of the project and its monitoring should not be in the hands of a private certifier. Shoalhaven City Council should insist it alone has the breadth of knowledge and local experience with this sensitive area to be the authorising and monitoring authority.
You may also wish to express other concerns such as the loss of amenity and character of the area, traffic congestion, and loss of habitat trees.
Please write letters, write to the local papers and share your views on social media platforms as well as Our Future Shoalhaven's Facebook and Instagram pages. Don't forget to ask all your friends who are concerned to do the same. Remember to tag #keepjervisbayunspoilt.
People to write to: The Hon. Shelley Hancock MP Member for South Coast
The Hon. Rob Stokes MP Minister for Planning and Public Spaces
The Hon. Matthew Kean MP Minister for Energy and Environment
Justin Field MLC
Shoalhaven Mayor Amanda Findley and Shoalhaven Ward 2 Councillors Joanna Gash, John Levett, Mitchell Pakes and Deputy Mayor Greg Watson.
The DA's relating to this site are: DA10/1377 and DS12/1101 and DS 18/1142.
Every report previously submitted is available on the council DA tracking web page as well as the first consent and the Consolidated Development consent given in 2018 which can be found at the bottom of the list of documents under DS18/1142.
We need to demonstrate community outrage at the process and the proposal. Go to it!
Richard Bates is an active member of Our Future Shoalhaven and Keep Jervis Bay Unspoilt.
Feature image: Moona Moona Creek at sunset, stunning and way too precious for inappropriate development. Photo copyright of Andy Hutchinson Photography