By Stuart Rees
For centuries, men in and out of uniform have built their identities around violence, swagger and related abuses of power. The latest war rhetoric from Minister Dutton and chief bully boy of the Department of Home Affairs Mike Pezzullo display the continuation of centuries-old attitudes which have destroyed countries, produced countless refugees and slaughtered millions.
These men and their acolytes, such as former Defence Minister and purveyor of weapons of war Christopher Pyne, have always needed to justify their violence by finding an enemy. That enemy is no longer referred to as the yellow peril but simply as the newly armed and economically powerful China.
Foreign policy apparently needs someone to fear. Military and so-called defence interests need to bolster their case for more arms.

Australian politicians' and bureaucrats' war talk coincides with declarations of loyalty to the US. Confusion occurs. Fear mounts. So does the sense of fatalism – that nothing can be done – except to follow these leaders and, metaphorically at least, get into trenches.

A lot can be done. In dialogue with those defined as enemies, the philosophy, language and practice of non-violence display life-enhancing alternatives to conflict. There are diverse non-violent ways of exercising power without threatening, abusing, destroying or killing.

Practised in government departments, in diplomatic relations or in the rarefied atmosphere of international relations, this non-abusive exercise of power offers the much-needed alternative to the Dutton, Pezzullo, Morrison, Pyne swagger. That alternative should also be offered as a sort of peace laxative to media outlets enthusiastic about beating Australian chests and confronting China.
The title words 'peace with justice' presuppose goals to achieve a quality of life based on respect for universal human rights and are crucial to arguments about alternatives to war. Dialogue with the US, with China and India, with the UK, with all nations of SE Asia, can be peppered with accounts of the end of poverty and homelessness, with ways to build international alliances to deal with climate change, to combat Covid and subsequent epidemics.
Those tasks are urgent. Those goals are aimed at providing security so different from the too easily accepted notion that security comes only by deterrence through force of arms.
As an antidote to the war talk, let us hear about peace with justice, expressed through enthusiasm for non-violence and shown in numerous, rewarding non-destructive ways of exercising power.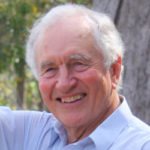 Stuart Rees OAM is Professor Emeritus, University of Sydney, recipient of the Jerusalem (Akl Quds) Peace Prize and author of the new book "Cruelty or Humanity". A human rights activist, poet, novelist, and Founder Director of the Sydney Peace Foundation.
Feature image: Dove of Peace and Guns Sculpture: Photo credit: Nikolay Bondarenko/Shutterstock.com