By Stuart Rees
Unless you think that force of arms gives security, that revival of alliances with far away governments makes sense, the decision to own and operate US nuclear submarines should be judged a dangerous nonsense. There are four reasons for making this claim.

Foreign policy in search of an enemy, in this case China, looks like a guarantee of conflict if not war. Polarisation with little room for dialogue only benefits the arms industry, US corporations and those in the US, UK, Australia and China who think a taste for militarism and masculinity will show the benefits of violence. Capacity to learn from the devastation of the past is once again shoved aside.

A second reason for my submarine despair concerns Australia's geography. As though days of empire must not be forgotten, a country located in South East Asia and the Pacific chooses an alliance with elderly friends in Washington and London. Such a decision reeks of cultural disdain for diverse countries. Even if dialogue with chest beating China seems currently blocked, it should make diplomatic sense to communicate about security by being at coffee tables and in tea houses in Malaysia, Vietnam, Indonesia, even Cambodia and the Philippines plus Pacific Island nations.
Such communication would be about Millenium goals, Covid vaccinations and the future of planet earth. Alliances with those countries about those issues would make sense.
A third reason concerns the continued use of military might as the way to address conflicts. Bellicose, top-down exercise of power demonstrates a fascination with violence and a corresponding illiteracy about non-violence. You have to ask whether men in suits, in politics, corporations and in association with media acolytes, ever learn. At a time when surveys of young people record their fear of the future and their despair that powerful, inaccessible men refuse to hear them, they are offered a massive bill for nuclear operating submarines.
Indifference to contracts and derision about trust is a fourth and final reason for disdain about the nuclear submarine alliance. Whatever the merits of building even one submarine, at least there were years of agreement with French companies to undertake that ship building task. I understand there are up to sixty Australian naval personnel in Cherbourg who have been taken by surprise at this Biden, Johnson, Morrison announcement. Who cares? Trust is of no consequence. Contracts can be torn up. Promises were never meant to be kept. Besides, in Morrison's case an election looms and boasting about national security by having US submarines gives a potential war like platform for winning.

There are and there will be no winners. As a post mortem remark can anyone forget the very recent US betrayal and refusal to consult friends and allies in Afghanistan. To distract from that debacle, just pretend that Washington will provide strength and trust in submarines. This is a dangerous nonsense.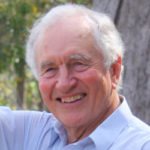 Stuart Rees OAM is Professor Emeritus, University of Sydney, recipient of the Jerusalem (Akl Quds) Peace Prize and author of the new book "Cruelty or Humanity". A human rights activist, poet, novelist, and Founder Director of the Sydney Peace Foundation.
Feature image: US nuclear-powered submarine, planned for Australia by Aukus, a dangerous military alliance between US, UK and Australia. Photo credit: US Navy/ZUMA Wire/REX/Shutterstock.com