By Peter Clarke
On Monday October 18, as part of a global multi-faith movement involving over 500 actions across the world, members of Kiama ARRCC (Australian Religious Response to Climate Change) gathered outside the office of Fiona Phillips, the member for Gilmore. Their protest concerned the lack of action on climate change and took place during the October Days of Action, timed to occur 2 weeks before COP26, the crucial climate conference to be held in Glasgow. In this article Peter Clarke explains why it is urgent that the Australian Government pays heed to the IPCC report released in August and takes a net zero target to Glasgow.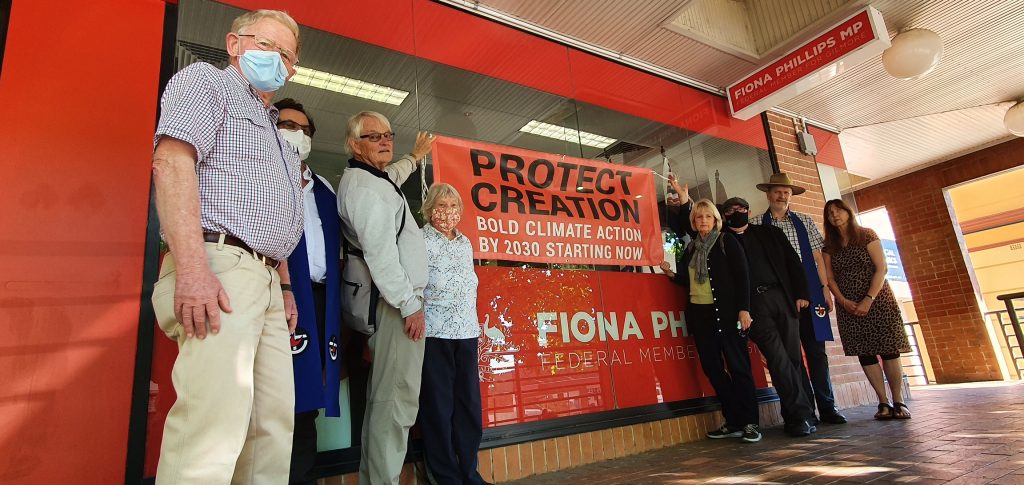 In August 2021, a report from the Intergovernmental Panel on Climate Change titled "Sixth Assessment Report: the physical science basis" was published. It presents the latest data on the state of the world's climate. This report will be followed in February 2022 with a report on likely consequences of the changes in the physical data and a report on possible remedial actions.
In a subsequent editorial in Eureka Street magazine, Andrew Hamilton comments: "If governments are to respond adequately to climate change, they need to come under pressure from the people. That will not happen unless people see the issue as personal. It needs to enter their dreams, engage their imagination, stir them to change their way of life and make them active in demanding an appropriate response,"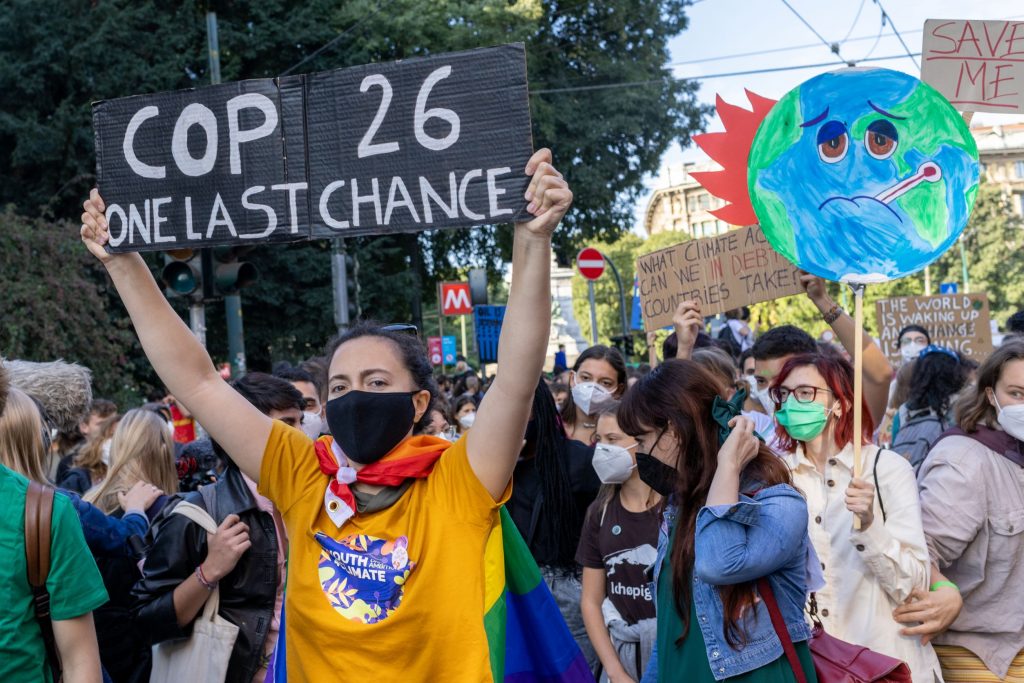 Which only makes it more important that we inform ourselves. We need to be aware of biased or false information. We need to be able to present information to family, friends and even strangers to do what we can to influence public opinion.
Without going into detail, the following can be stated from the IPCC report:
Without any doubt human influence has warmed the planet. Widespread and rapid changes in the atmosphere, ocean, cryosphere and biosphere have resulted.
The unprecedented is the new normal. Changes happening now have not occurred in thousands of years. The past is not a guide to the present.
Impacts are already being felt everywhere. Who would have anticipated our Black Summer or fires in Siberia?
What is happening now will get worse. Even if we stop emissions immediately, further and worse change is locked in.
Abrupt and irreversible changes cannot be ruled out. For example, a sudden collapse of the Antarctic ice sheet leading to unanticipated sea rise. These are called tipping points.
Many different bad things can happen at the same time. For example, record breaking droughts followed almost immediately by flash floods.
So, we must get ready for our changing climate. We know that fire events will be more frequent and more intense. We need control methods far beyond what was normal yesterday because the past is no predictor of the present and certainly not the future.
I am particularly concerned with the impact of sea level rise and the following comment, made by Merineta from Tuvalu, illustrates the issue: "As a mother of a seven-month-old baby I am worried about his future and his life - all the children of Tuvalu have a right to life - a right to an environment with good quality. I love my country, I love my people and traditions, I love my culture and I don't want to lose them because of climate change. We all want to stay in our own lands because it defines who we are. We don't want to migrate or relocate".
The island of Tuvalu will become uninhabitable if sea level rises by between 20-40 cms in the next 100 years. Sea level is predicted to rise by at least 100cms by 2100 and some modelling predicts an even greater rise. The Howard government declared that Pacific Islanders forced to flee rising sea levels would be treated as "economic refugees" which would virtually mean no access to Australia. As far as I am aware this ruling remains policy.
In the latest survey of progress towards sustainable development goals, Australia ranks 35th out of 175 countries. But in the specific area of policy directed at achieving the goal, Australia ranks dead last. We are the world's largest per-capita emitter of greenhouse gases; we are in the top three countries for exported greenhouse emissions and among the top ten per capita fossil fuel users. Australia's pledge to the Paris Agreement of 26-28% reduction in emissions from 2005 levels by 2030 is totally inadequate. The world requires emission reductions of at least 50% by 2030* and net zero by 2040* if we are to have any hope of less than 2⁰C of warming in the long term. Australia is already warming faster than the rest of the world with an increase of 1.44⁰. Even if we were able to stop all further CO2 emissions immediately, the world would still exceed 2⁰C warming for a time due to the CO2 concentration already in the atmosphere. We have already exhausted or near exhausted our carbon budget to achieve warming restricted to 1.5⁰C.
The United Nations has already stated that to achieve carbon neutrality and to control global warming, we cannot increase carbon emissions with new fossil fuel projects. That means no new coal mines, no new gas fields, no new oil wells. And in Australia we must realise two facts. Gas is not a clean fuel. If gas wells and gas liquefaction plants leak methane, which they all do, once fugitive gas exceeds three per cent you might just as well be burning coal because methane is such a potent greenhouse gas. And if we lock in gas wells and an unnecessary gas fired power station, we must be aware that we are locking in continued pollution for 30 years (the average life of a well).
The costs to the Australian taxpayer are enormous. The government draws attention to the 130-150 billion dollar debt resulting from the Covid crisis. But no mention is made of the 100 billion dollar cost of one climate induced crisis. The east coast Black Summer bushfires by themselves are estimated to have cost that amount and fires as bad or worse will occur in the future. Who would have expected to see tornados in Australia? Yes, they have occurred before but twice in three months! The average Australian around the Nepean or in Townsville is never going to be able to insure against flood and the increase in insurance premiums that we are all paying is the true 'Carbon Tax'. The insurance industry has been warning for years that climate change would bring costs and must be dealt with.
On the 25th August 2021 the Australian Parliament voted funding of over $50million as a first step in the development of gas fracking fields in the Beetaloo Basin in the Northern Territory. (Labor joined with the LNP coalition to support this – Ed.) This legislation was virtually snuck through Parliament with no discussion in a media fixated on COVID. The legislation and the development is against the wishes of the traditional custodians of the land, the peoples who gave us the Uluru Statement from the Heart; a heart now broken by "the torment of powerlessness". This reckless piece of legislation, stupid and without ethics or morals in the light of the IPCC report, is completely contrary to any stated intention of reducing carbon emissions.
We are living through the 6th great extinction event in the history of this planet since complex life first appeared some 540 million years ago. With one possible exception 64 million years ago, this event is progressing faster and appears as extensive as any previous event. The two great differences are that this time we are here. This is not history or palaeontology. We and our children and grandchildren are affected, our very existence is threatened. And the second great difference is that our species is causing it. Tim Flannery described us as 'The Weather Makers'. We are more like the climate changers, destroyers, a plague upon the planet. Unlike previous generations we know these statements as facts, thanks to our combined intelligence and the work of thousands of dedicated scientists around the world.
We as a species evolved into and adapted to a world in a cooling trend. The world's environment shapes the web of life. Evolution determines that the species best adapted to the environment survive and those not adapted go extinct. This is not good or bad, blessing or curse, it simply is! The earth will continue and life will continue. As one species dies out, the environmental niche left vacant will be filled with a more successful species for that environment. 99 per cent of all species that have ever existed on Earth have gone extinct. And there is no guarantee of our continued existence on this planet. But our great miracle is that unlike all previous species, as far as we know, we were created with intelligence and the ability to create and use technology. It is that ability which can be used for either good or evil. We can destroy the present web of life, including our own species, or we can save it. The time for this choice is short.
* these views are not those of the editors - NBT advocates for net zero by 2030.
Peter Clarke is a retired scientist, married with three daughters and seven grandchildren. He holds degrees in geology and material science and worked most of his career in the quarrying industry. He has been involved in the environment for most of his working career and became concerned with climate change some thirty years ago. Peter lives in Kiama and is a member of the Kiama branch of ARRCC (Australian Religious Response to Climate Change).
Feature image: Flag for COP26 UN Climate Conference in Glasgow November 2021. Photo credit: rafapress/Shutterstock.com